Comics for Your Pull Box, Week of April 4th, 2018: New Series Galore!
It's time for that time-honored tradition of a doofy guy with pretensions of being an expert on the subject telling you what comics you should look for at your comic shop this week. That's right, it's time to figure out what comics should go in your pull box on April 4th, 2018. For the full comic output, check out this link to ComicList. Let's get started.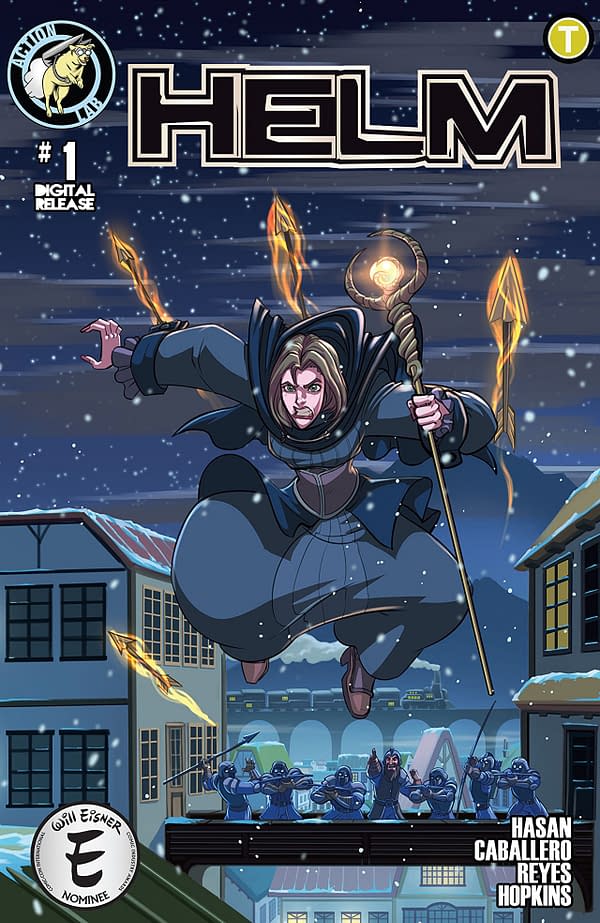 Helm #1
Action Lab Entertainment brings you this new fantasy series from creators Jehanzeb Hasan, Mauricio Caballero, and Miguel Angel Reyes. It centers on a witch named Luna Lumere and a "magick-maker" named Eldrick Spellsong as they are pursued for their crimes by the "Legion." Our heroes look to investigate a prophecy, but the Legion intends to stop them. This looks to be an interesting fantasy story that may very well be worth your time.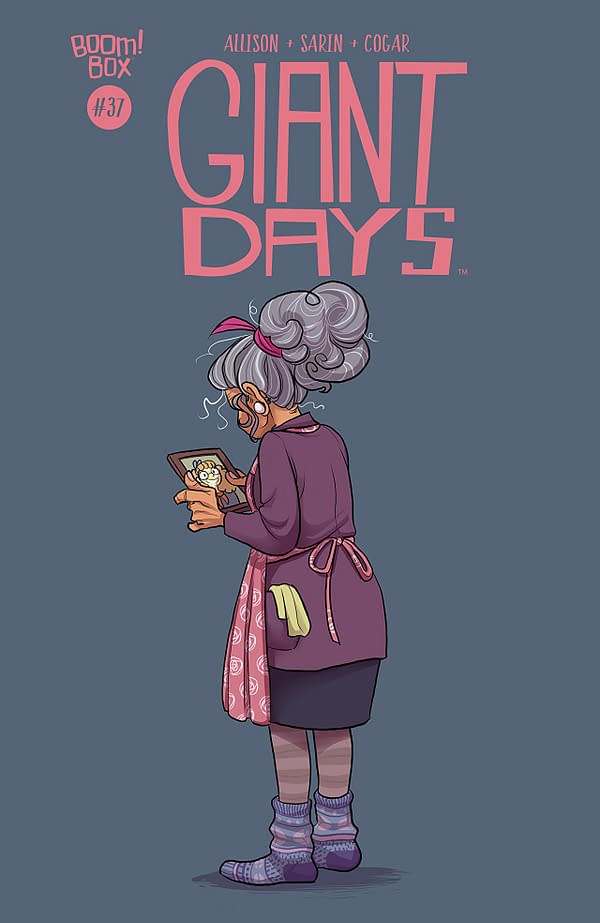 Giant Days #37
John Allison and Max Sarin's charming day-in-the-life comedy series continues with Ingrid being introduced to her girlfriend's mom. Giant Days often brings a smile to my face. I think it will do the same for you.
Mech Cadet Yu #8
The Mech Cadets go off the reservation to stop the Sharg's latest superweapon and save their Mechs from General Park's desparate ploy. This sounds like it will be an exciting issue, and Greg Pak and Takeshi Miyazawa have yet to let me down with this series.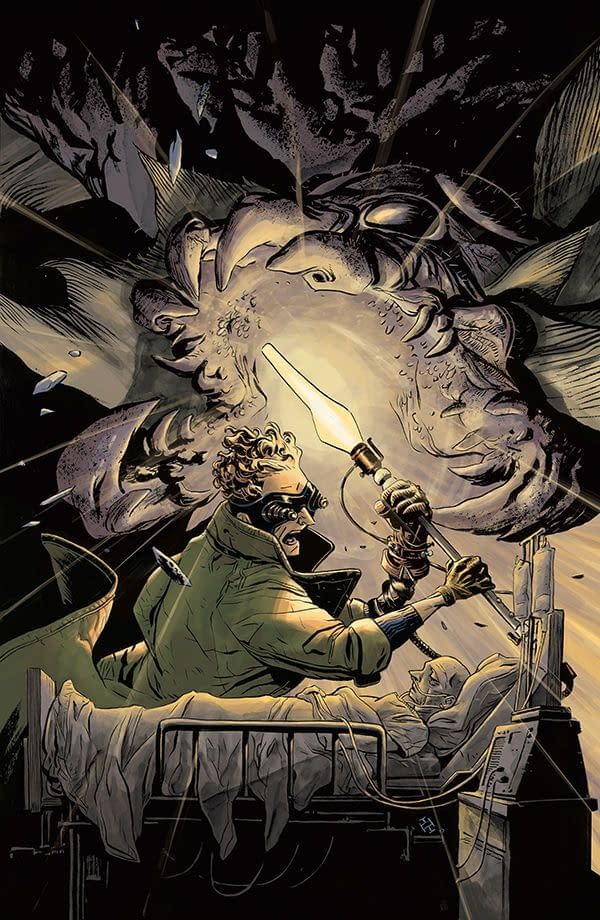 Doctor Star and the Kingdom of Lost Tomorrows #2
Jeff Lemire and Max Fiamura continue to expand on their Black Hammer universe with this Justice Society and Starman send-off focusing on a hero coming to terms with everything his heroic lifestyle made him miss, including returning home to visit his son who has come down with cancer. The first issue was phenomenal; you should definitely have this one in your pull box.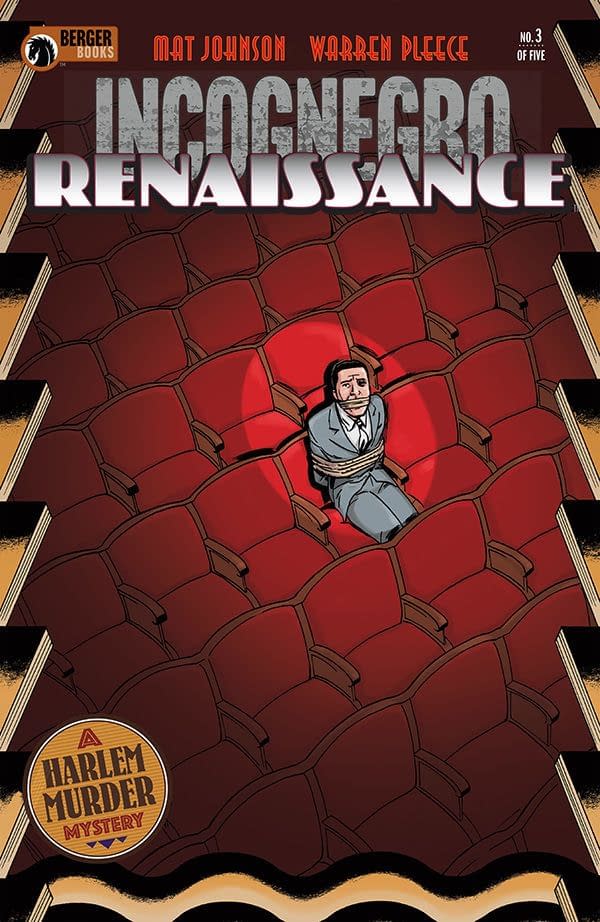 Incognegro: Renaissance #3
Mat Johnson and Warren Pleece's Harlem Renaissance detective story continues with Zane narrowly escaping death and returning to "passing" as a white man to find the true killer of Xavier. This racially tinged comic is definitely worth keeping an eye on.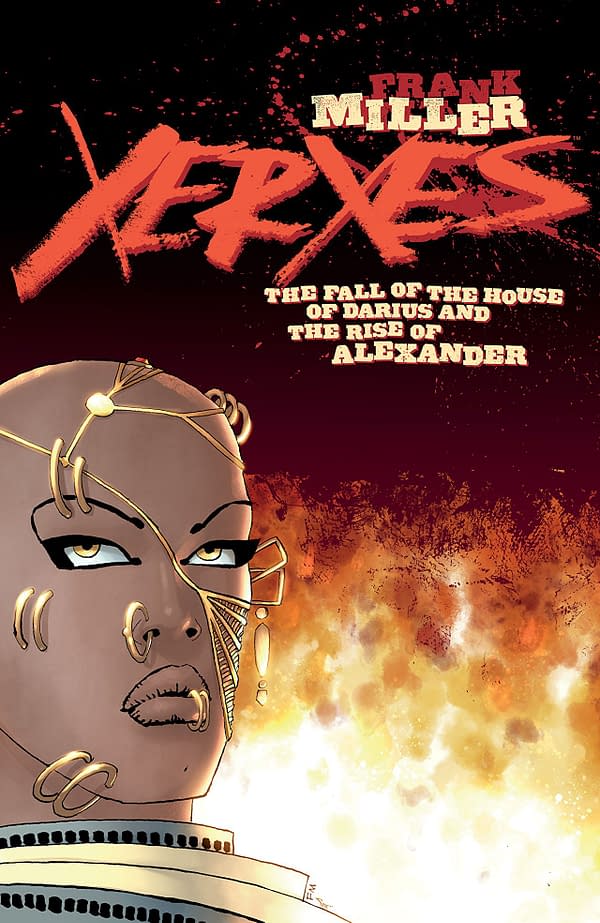 Xerxes: The Fall of the House of Darius and the Rise of Alexander #1
Frank Miller returns to 300 with this unwieldily named comic that focuses on the antagonist from the famous antiquity-set graphic novel. It pits Xerxes against Alexander the Great in a bid to conquer the world and is both written and drawn by Frank Miller, joined by color artist Alex Sinclair.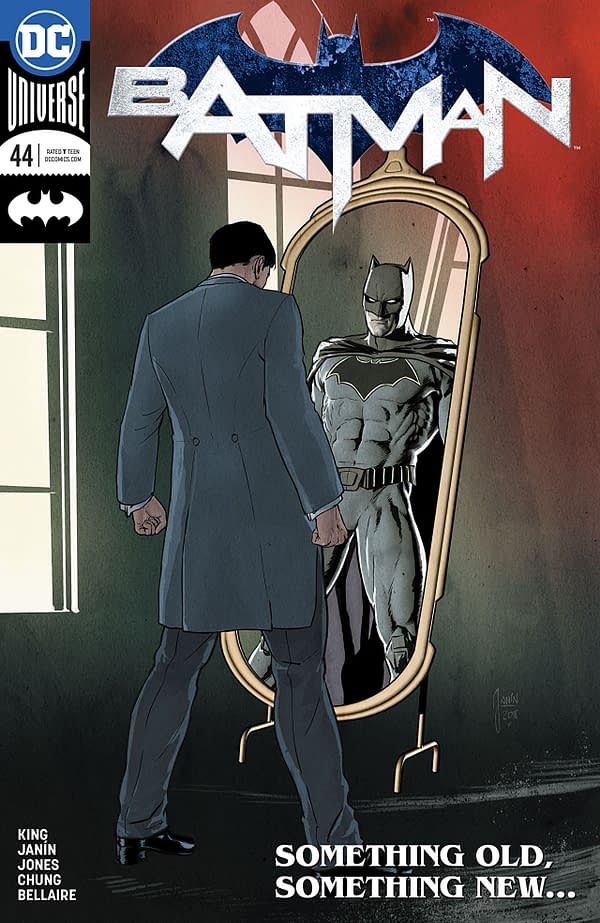 Batman #44
The wedding of Batman and Catwoman begins its preparation stages and, I can't believe I'm saying this, but I'm really excited to see what happens with it. Tom King has done an excellent job of making me invested in this age-old comic book couple, and I look forward to see how this wedding shakes out.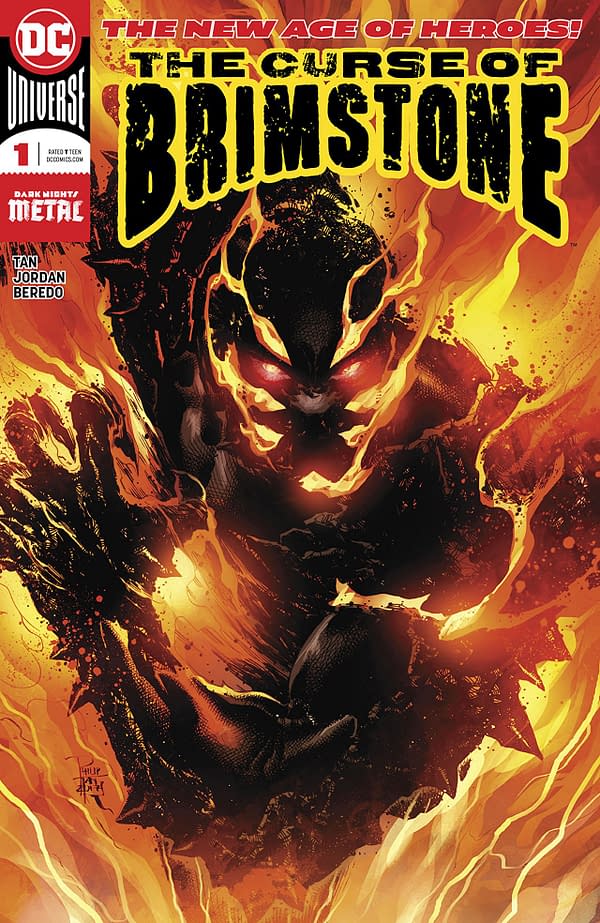 Curse of Brimstone #1
My favorite of DC's New Age of Heroes line thus far (after Terrifics of course), Curse of Brimstone #1 blew me away with its mixture of character and world building and its ability to tap into the desperation of poverty in small town life. Justin Jordan and Philip Tan have something special here, so don't let it fall by the wayside. Get it in your pull box this week.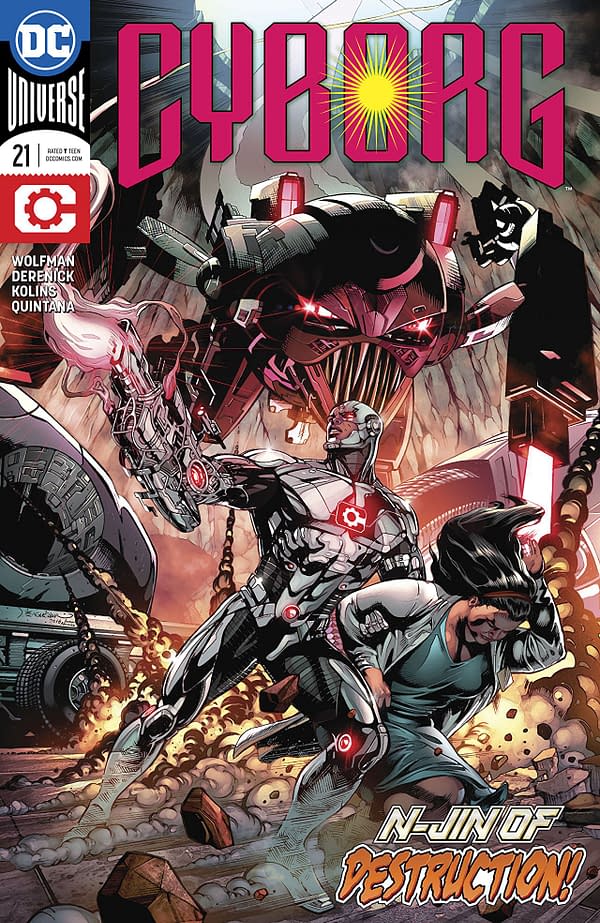 Cyborg #21
Marv Wolfman returns to his creation, Cyborg, with a story that poses Vic Stone against a group of drones piloted government agents calling themselves "Motherbox 2.0." It should be cool to see Wolfman, joined by artist Tom Derenick, return once more to Victor Stone.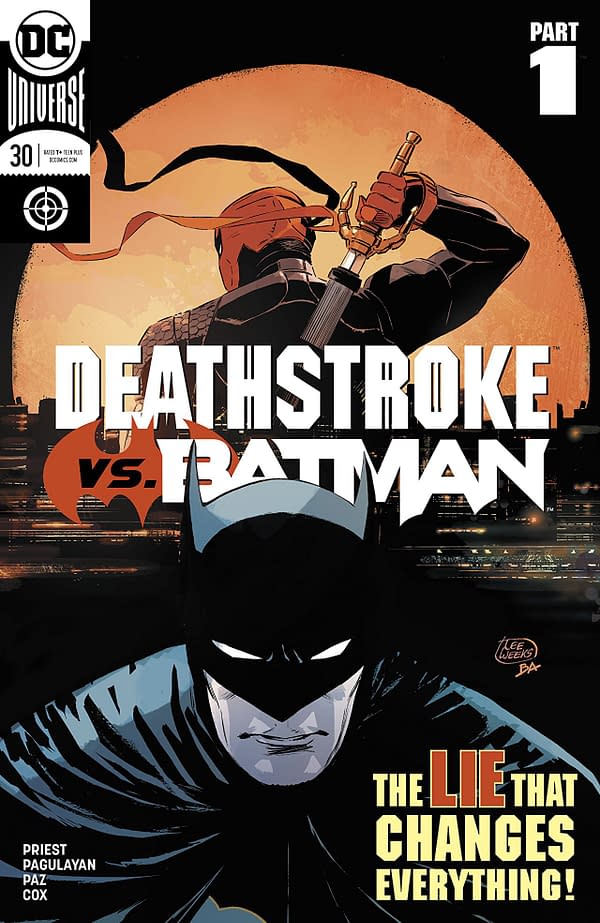 Deathstroke #30
This is it! Deathstroke the Terminator vs. the Batman himself, brought to life by the creative team of Christopher Priest and Carlo Pagulayan. This duel will be over the fatherhood of… Damian Wayne? You heard that right: the inciting incident here is a package delivered to Bruce Wayne that contains "proof" that Slade is the true father of the current Robin. What happens next is anyone's guess, but it will involve a battle between two of DC's greatest fighters.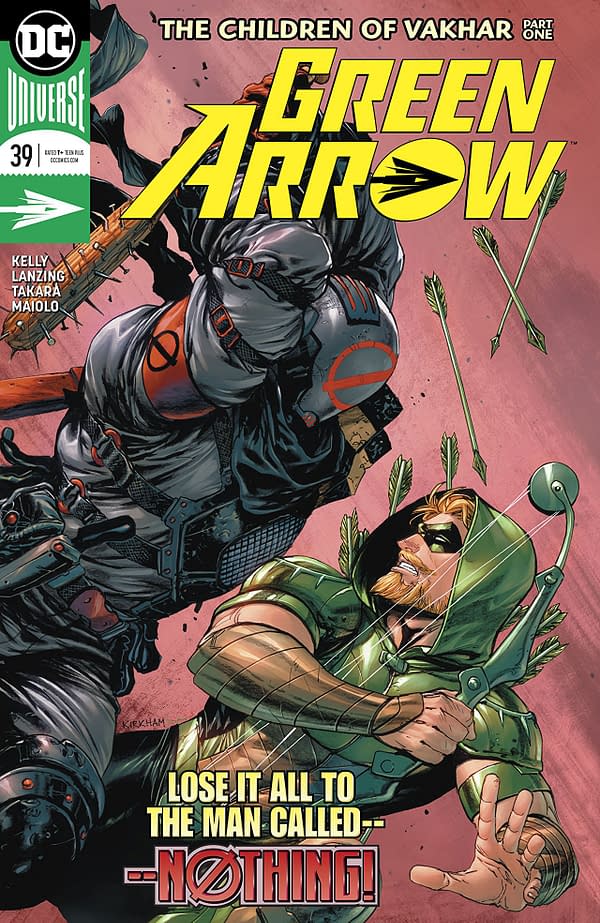 Green Arrow #39
Green Arrow begins a new era with a new creative team that takes the Emerald Archer to a war-torn country in an attempt to spread a little bit of compassion. Unfortunately, a warlord calling himself Nothing challenges Oliver Queen. Writers Collin Kelly and Jackson Lanzing and artists Marcio Takara and Marcelo Maiolo take the reins in this new beginning.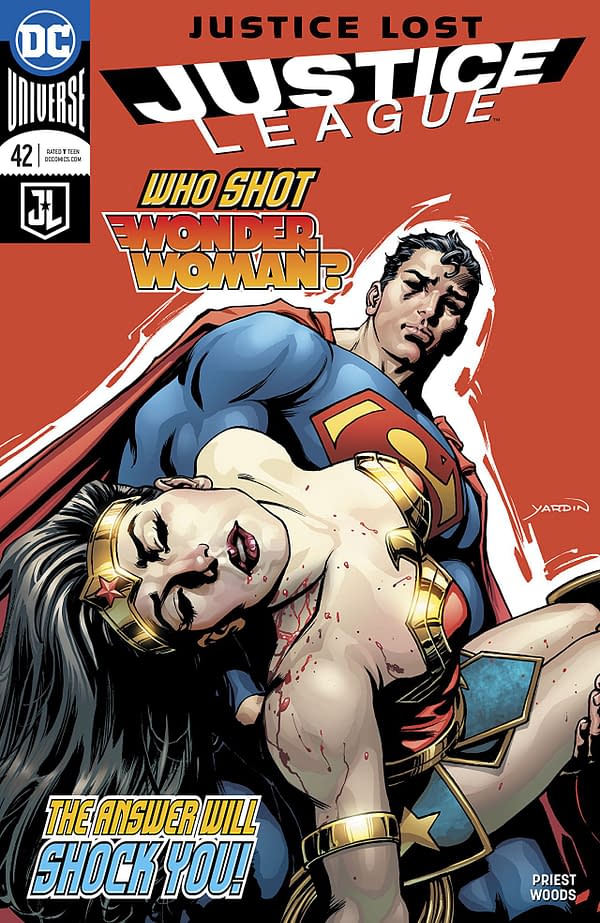 Justice League #42
Christopher Priest and Pete Woods continue off the absolute insanity that was Justice League #41 with Wonder Woman shot, Cyborg taken apart by Red Lion, and Superman and the Flash left to hold what's left of the deteriorating situation around the crashed Watchtower together. Hopefully, Batman and Aquaman can make some headway with the Fan case — if the Fan doesn't reveal all of their secrets to the world first.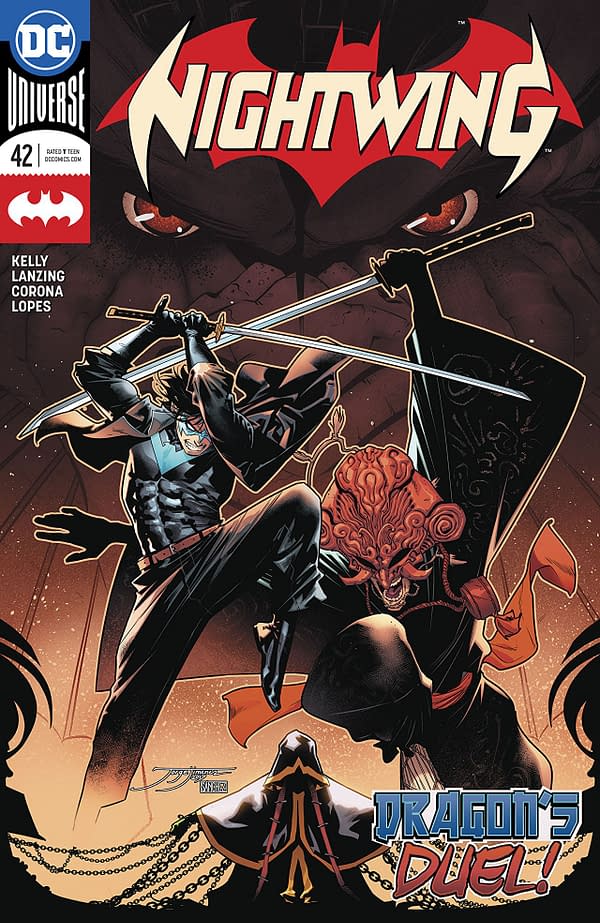 Nightwing #42
Nightwing #42 also gets a new start with a new creative team, also with writers Collin Kelly and Jackson Lanzing. This story finds Nightwing infiltrating the tower of a villain called Crimson Kabuki in Tokyo to find Robin, who recently disappeared in the city. These new writers joined by artists Jorge Corona and Mat Lopes.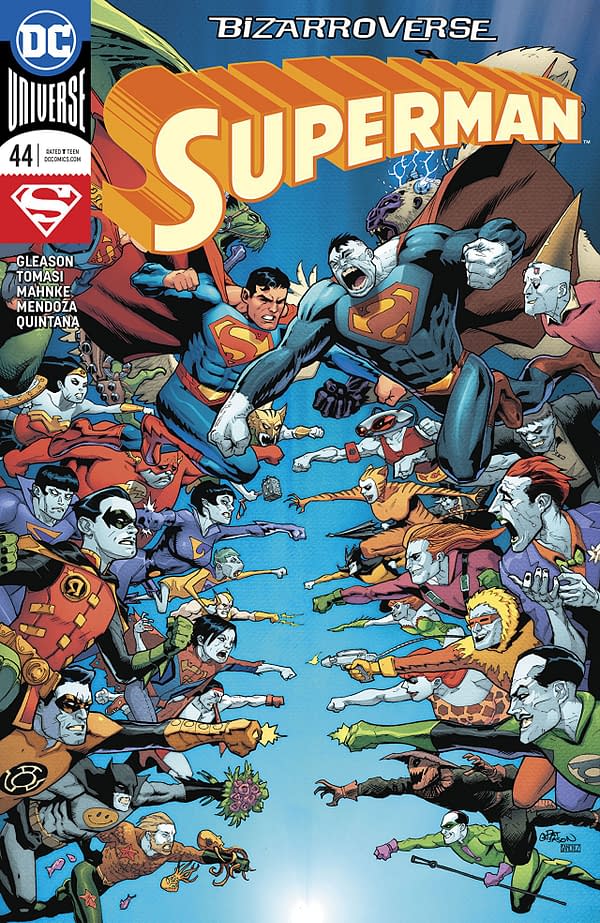 Superman #44
While Superman #42's Bizarro-speech and lack of any real plot until the end bothered me a fair amount, I can't deny that the prospect of a Bizarro War intrigues me, so I'm obligated to include this pull box suggestion. Bizarro is probably my favorite Superman villain, so a whole lot of Bizarros can only make it better right? Let's see if I eat my words this Wednesday.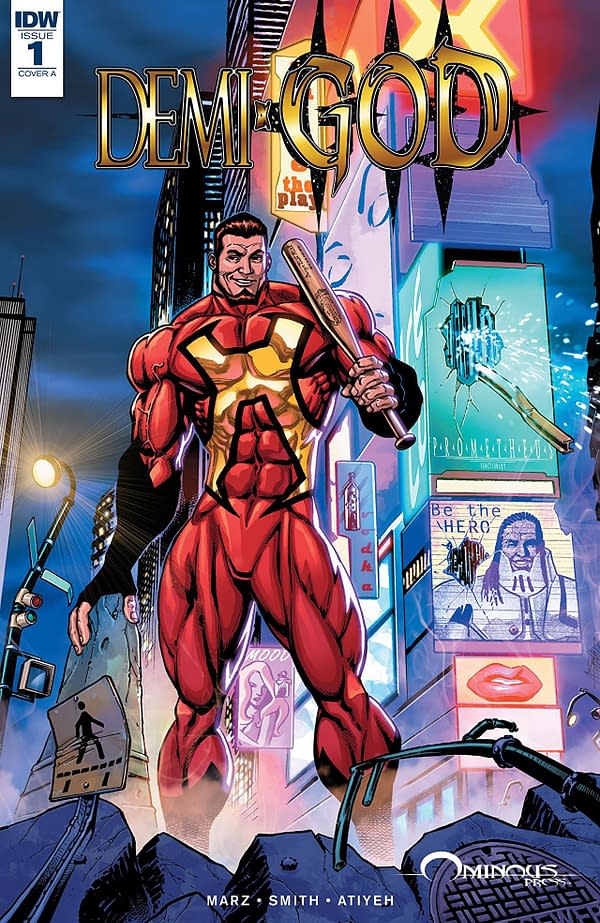 Demi-God #1
Legendary writer Ron Marz is joined by artist Andy Smith to begin this new series for IDW Publishing about a slacker who suddenly gains immense power. Demi-God promises to be a superhero comedy series about what happens when the most irresponsible and inadequate people gain the powers of a god.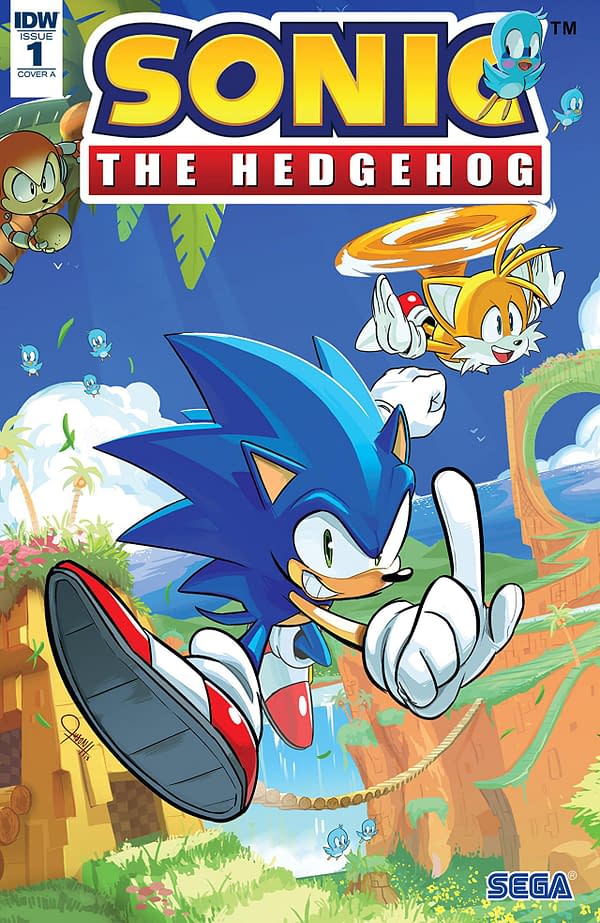 Sonic the Hedgehog #1
The Blue Blur returns courtesy of creators Ian Flynn and Tracy Yardley from IDW Publishing. This series starts off like classic Sonic tale, with the titular Hedgehog and Tails stopping the latest scheme from Dr. Egg-Robot-Man-Nik and his robots. Something-something joke about furries and 3-D Sonic games being bad, moving on.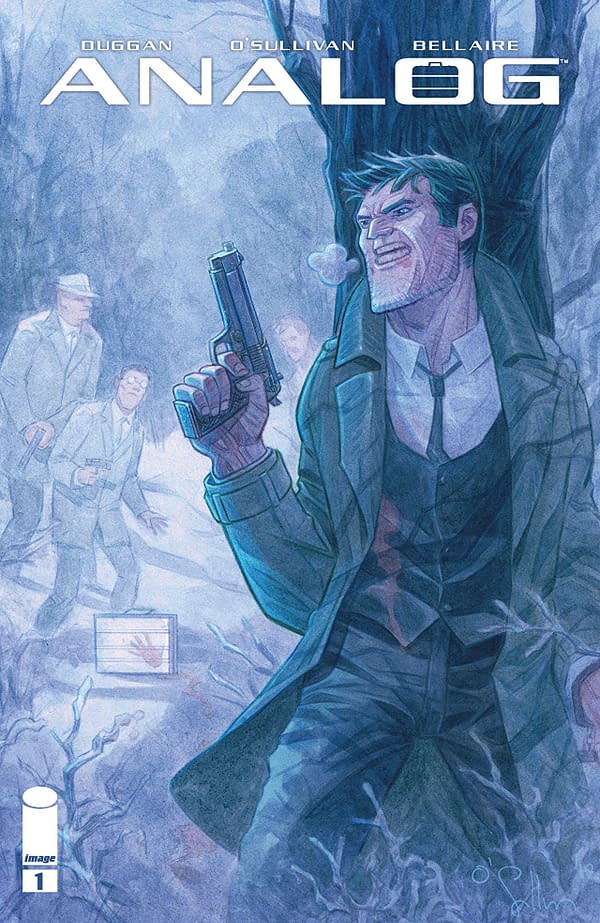 Analog #1
Gerry Duggan, David O' Sullivan, and Jordie Bellaire bring you this Image series about an information courier in a world where the internet can no longer be trusted to keep secrets (as if, right?). It centers around one such information courier named Jack as he battles the world's worst forces to do his job.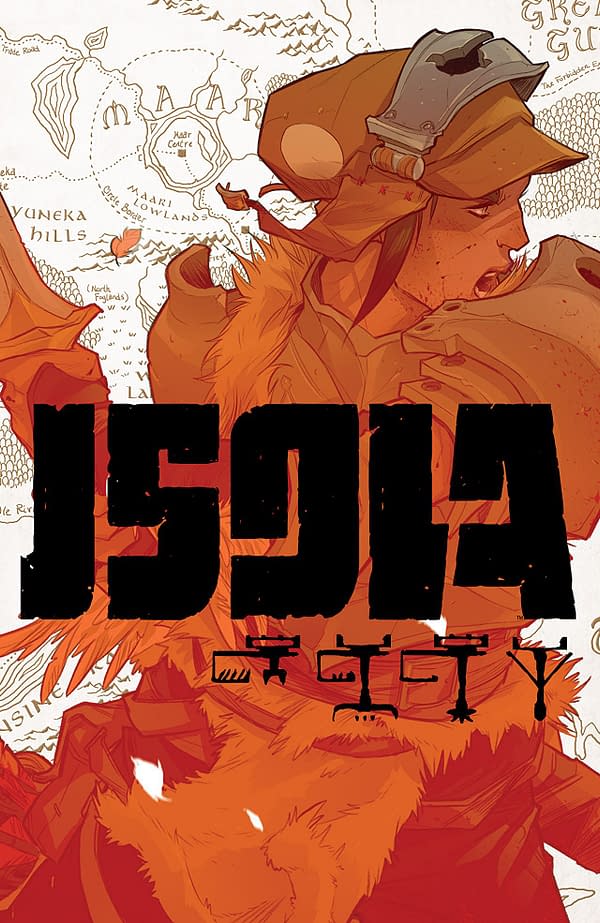 Isola #1
Another new Image series, this time from the creative team of Brenden Fletcher, Karl Kerschl, and MSASSYK. The story centers around a royal guard retinue trying to save their queen from an island called Isola, known as the land of the dead.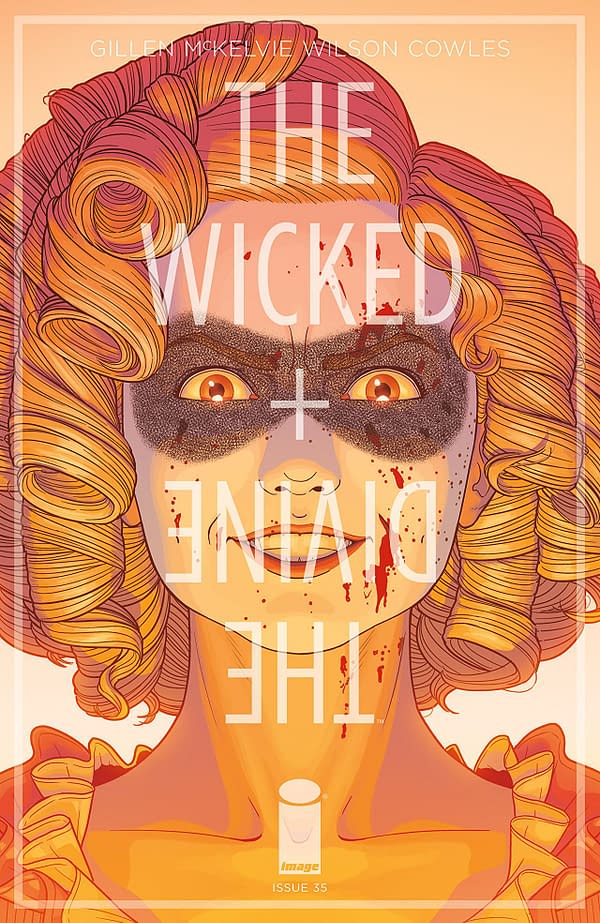 The Wicked + The Divine #35
The legendary Image title from Kieron Gillen and Jamie McKelvie rolls on as further secrets are revealed and Persephone and Cassandra try to escape the wrath of Woden. Sorry, the ComiXology page doesn't have much to say about this one.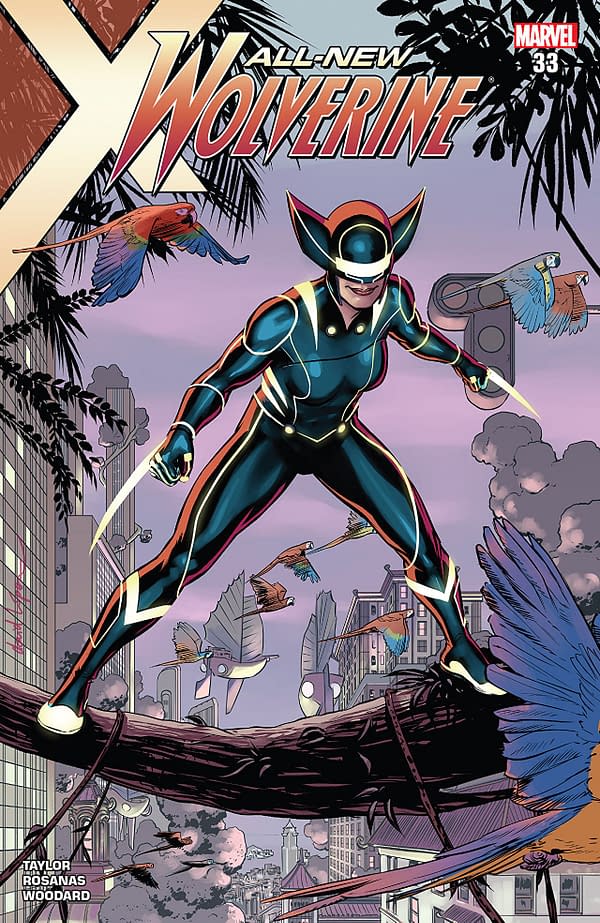 All-New Wolverine #33
"Old Woman Laura" begins with a future where the heroes have won and the world is a peaceful place at last. Laura leads this idyllic world from Madripoor and is no longer Wolverine. However, utopias can't last, and something from her past returns to haunt her. This one should be interesting.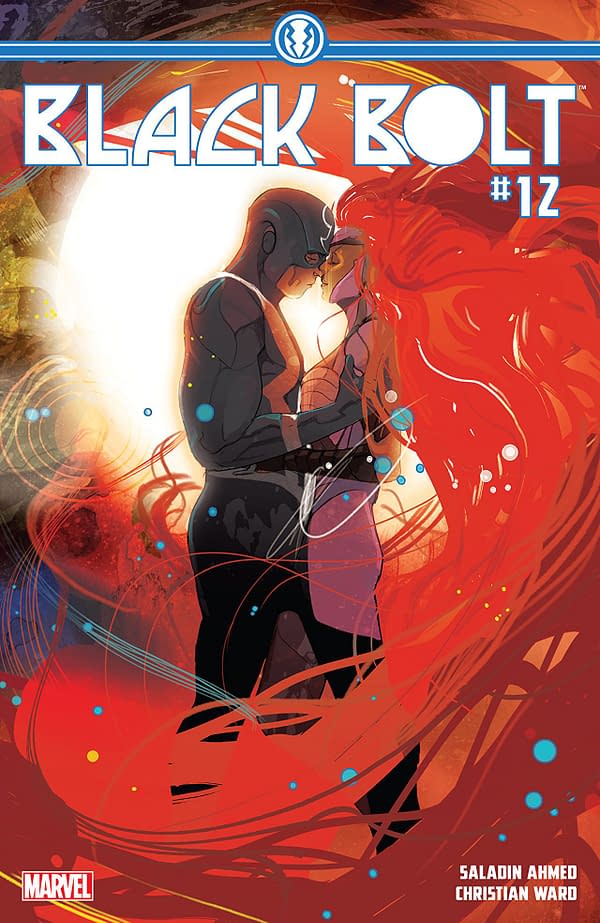 Black Bolt #12
Saladin Ahmed and Christian Ward's beloved Black Bolt series comes to an end with his former queen, Medusa, finally coming to save him from demons both interior and exterior. Friends and family also return to save the Midnight King. Don't miss this conclusion to Black Bolt.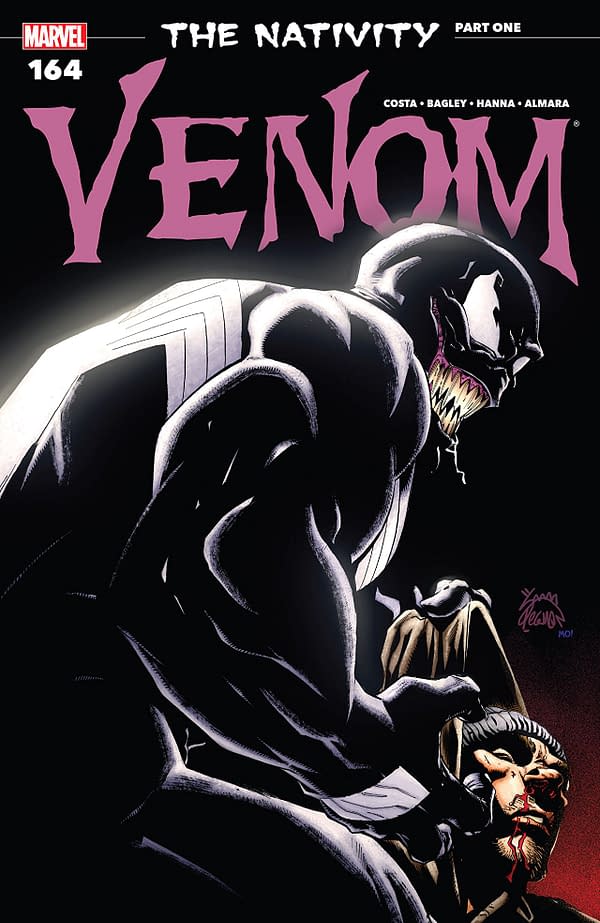 Venom #164
Mike Costa's Venom returns to its regularly scheduled programming along with legendary artist, Mark Bagley. However, Eddie Brock has learned that his symbiote has kept some secrets from him. This leads to strife between Eddie and the Venom symbiote.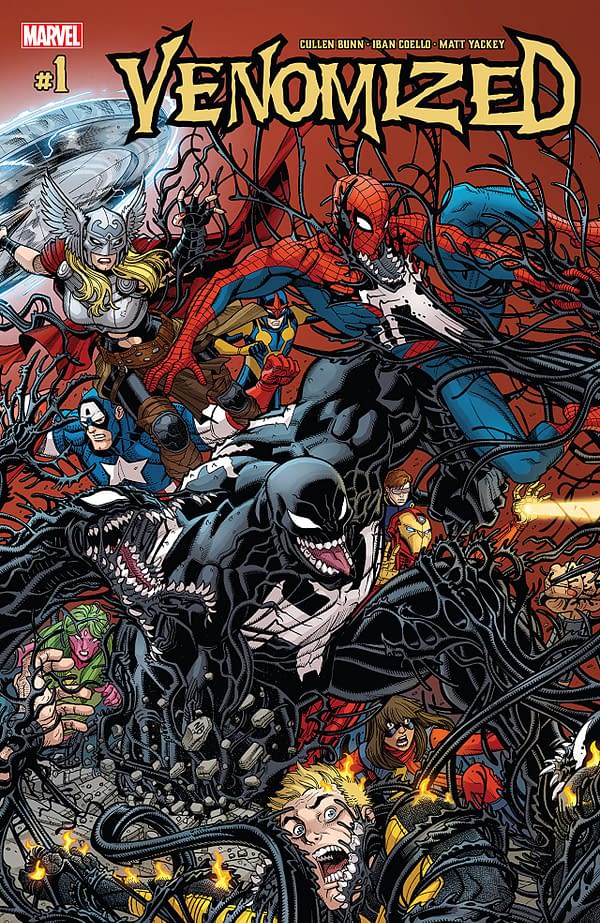 Venomized #1
This story continues off of Venomverse and Poison X with the Poisons arriving on Earth to wreak havoc, and it's up to Venom himself to save our world from these alien demons. The Poisons intends to attach every superhero to a symbiote so the Poisons can consume them. I'm personally not going to follow this one because there are just too many other events going on, but if you're somehow a bigger Venom fan than I, then this seems like something worth trying.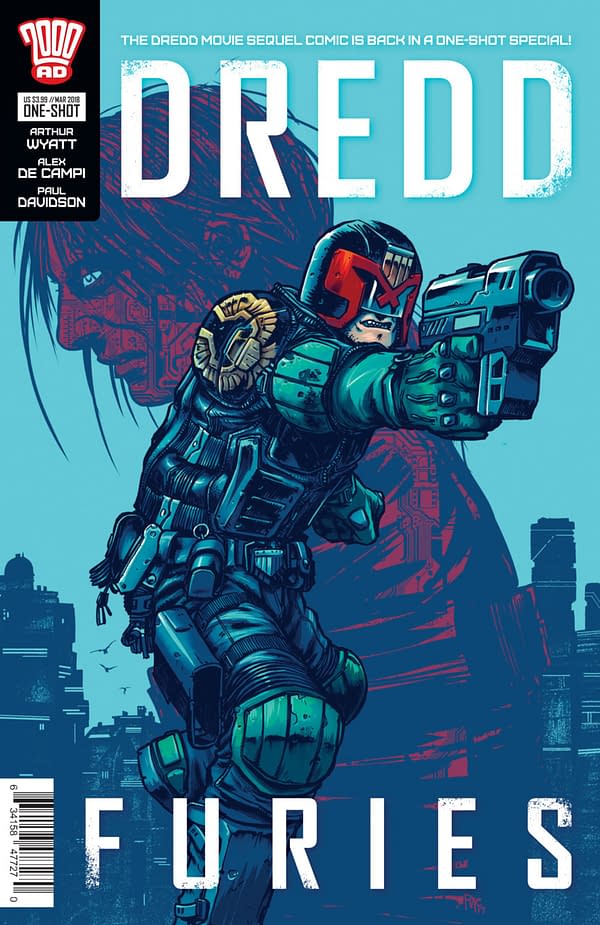 Dredd Furies #1
This Rebellion/2000 AD one-shot continues a story from the Dredd film, focusing on the hacker that Ma-Ma exploited throughout the movie and his attempts to move on with his life. This Judge Dredd story comes to you through Alex de Campi and Arthur Wyatt.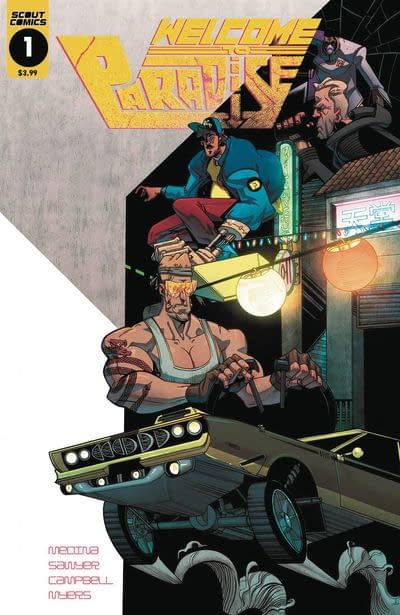 Welcome to Paradise #1
This Scout Comics series, coming from the creative team of A. C. Medina and Morgan Sawyer, brings you to a post-apocalyptic world where most life exists underground, drag racing is the main entertainment, and mass killings are common. A mechanic named Manny is the focus of the comic, but there is a target on his head.
And that's all for this week! As always, expect reviews from yours truly on most of these before the week is out. See you then.