Hobby: Journey Of A "Gaslands" Newcomer, Part 4
Hey all! So, because it's been a few weeks of me writing weekly articles pertaining to Gaslands: Refuelled, I reckon I am no longer a "Newcomer" to the Gaslands. I just wanted to quickly explain the retitling of this story segment before diving into my fifth and final car, and then detailing my first game against Neil Burns and his team of cars.
So, my final car is called The Wonder-van. It's a riff off of Wonderland, but with a bit more smoke, and not the kind you'd necessarily get by engaging in illicit activities (which are illicit for a reason, just as a reminder!). The car itself is a Volkswagen Deluxe Station Wagon, originally painted over the die-cast metal frame with a motif out of Disney's Alice in Wonderland from 1957. I painted over certain parts of this van, and, as with the Queen of Hearts from my last article, I kept some parts intact. I did also manage to work in some rudimentary freehand painting on the top of the piece (like I did in Part Two of this segment), to give the car a more personalized feel.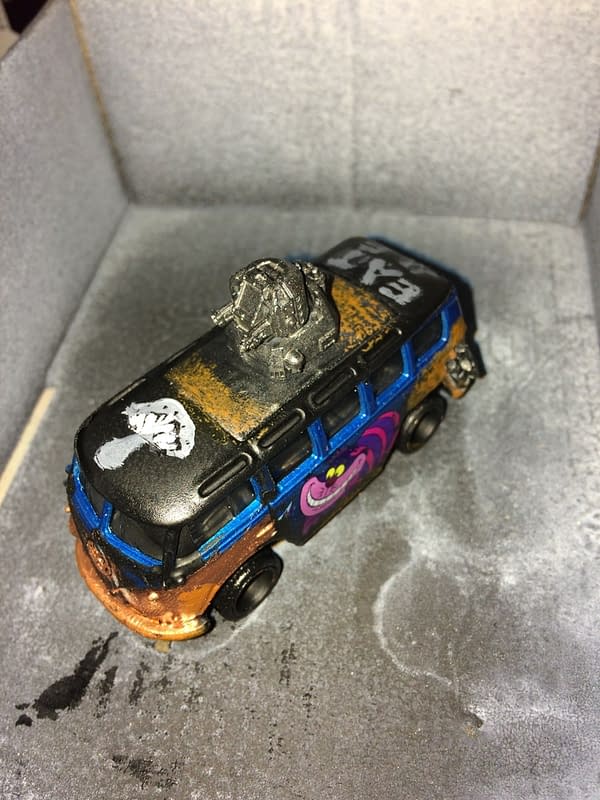 So, the Wonder-Van's stats as a Gaslands car are as such, again keeping in mind that my cars are sponsored by the in-game sponsor Verney, and that one asterisk denotes weapons while two denotes perks:
Wonder-Van (VW Station Wagon – MW Van) = 15 cans
12 Hull
2 Handling / Mx Gear 4 / 3 Build / 3 Crew
** Gyroscope +1 can
** Dead Weight +2 cans
* front-facing minigun +5 cans
* left-facing smoke x1 +1 can
* right-facing smoke x1 +1 can
=25 cans
Here's a shot of my entire 125-can loadout!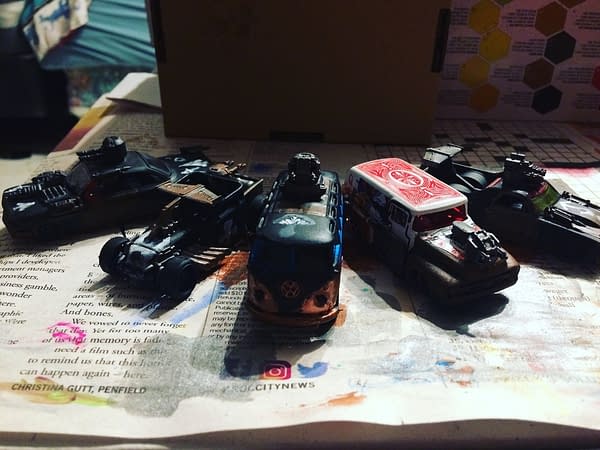 Game One: The Demo
So, Neil Burns, who I've made mention of in past articles and who got me into Gaslands in the first place, got the honor of giving me my first demo game for Gaslands at Just Games in Rochester, New York. It was his first game too, as it were, but he had played in the earlier edition so had a slight edge.
There was a lot that we learned after this game that made it grayer than a win or a loss but overall, Neil effectively won with grace. The game ended with every last car completely wrecked, all lost to turreted sentry guns or each other. In essence, Neil's cars survived the longest but when it came to actually scoring for the end of the game, no player had cars left to count as having won. It was in essence a tie, and although it's not technically in the rules, we tallied up Audience Votes (this game's version of Victory Points) to determine the winner, Neil came out on top based on that tally. I'm happy to concede defeat here – and I know I can do better!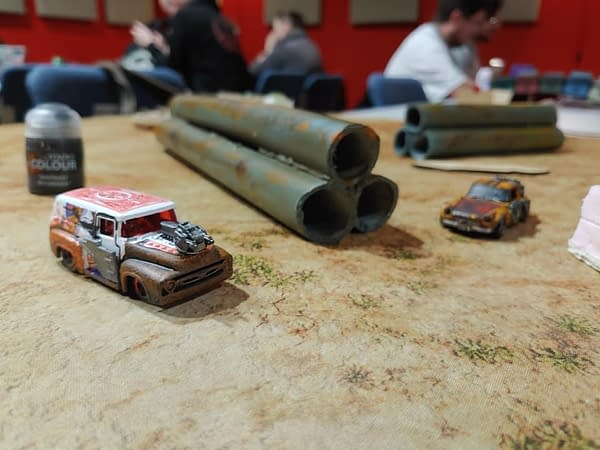 So congrats to Neil for besting me during our mutual first game, and here's to many more fantastic demolition derbies and races!