Resident Evil hero Leon Kennedy is getting a new statue from Kotobukiya. The new ArtFX statue will be out in July 2018. This version is based on his appearance in the CG animated film Resident Evil: Vendetta.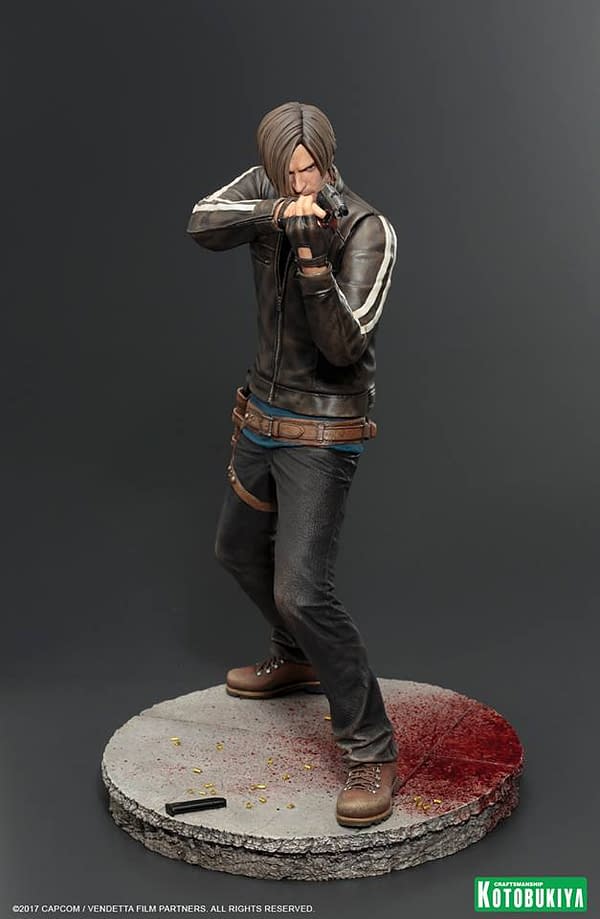 A bloodstained tale of revenge, Resident Evil: Vendetta is feature-length CG animated film from the best-selling survival horror game series, Resident Evil. The film is set in New York, and depicts Chris Redfield, Leon S. Kennedy, and Rebecca Chambers as they work together to take down wanted criminal Glenn Arias, also known as "the death merchant."

The film is the first in the series depicting Redfield and Kennedy working together, and now Kotobukiya has recreated the DSO (Division of Security Operations) agent in stunning detail! Recreating the battle scene from the film, the figure is posed with his custom Sentinel Nine in hand, looking ready to take down hordes of undead in a blaze of glory. The figure's stand is decorated with an empty cartridge and a spray of blood to heighten the atmosphere. This stunning rendition of the popular Agent Leon S. Kennedy is one you won't want to miss!
Everything about this is awesome. I have said it before and it bears repeating: Kotobukiya does exceptional work with these and keeps the price point very affordable. While never the biggest fan of the film this is from, Leon looks awesome. This is pretty much the most iconic pose they could have done for the character. I love all the empty shells and clip on the base, although the blood splatter is a bit much. It's not needed, but I get why it's there. Hopefully there will be more from the games soon, not just from this film.
This should be up for preorder soon right here.
Enjoyed this article? Share it!