Superman, The Blacklist, Doctor Who, DCU & More: BCTV Daily Dispatch
In today's BCTV Daily Dispatch: Doctor Who, James Gunn/Superman/Harley Quinn, Wonder Man, The Blacklist, SNL, AEW, Frasier, and lots more!
---
With today's BCTV DD "Long-Distance Dedication" bringing us Better Than Ezra with "In The Blood," welcome back to the BCTV Daily Dispatch! Here's where we look back at what we've been doing for the past 24 hours that you might've missed or might want to check out again. We're talking about everything from news and reviews to interviews and opinion pieces- all for your television-obsessed enjoyment. Our line-up for this morning includes Steven Moffat hoping the sun never sets on the BBC & Disney+'s Doctor Who, DC Studios' co-head James Gunn's tackling Superman's trunks & Harley Quinn's future, Disney+'s Wonder Man filming soon (with a Baron Zemo tease), NBC's The Blacklist ending "Red" Reddington's (James Spader) run after ten seasons, and AMC's The Walking Dead– Daryl Dixon spinoff looking to "Raise the Dead."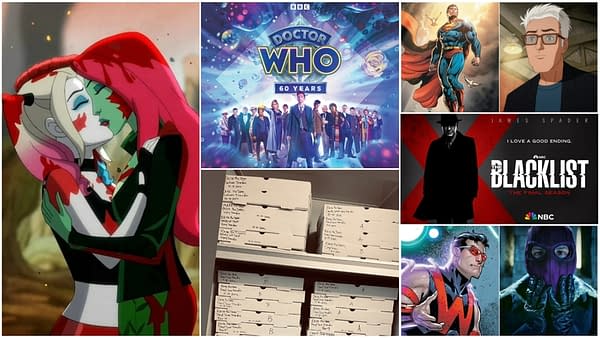 BCTV Daily Dispatch: Superman, The Blacklist, Doctor Who, DCU & More!
Plus, check out our additional coverage: NBC's Saturday Night Live, TBS' AEW Dynamite, HBO's House of the Dragon, Netflix's The Umbrella Academy, The CW's The Flash, HBO Max's Pennyworth, Amazon's Carnival Row, HBO's True Detective: Night Country, Paramount+'s Frasier, HBO's The Last of Us, HBO Max's Creature Commandos, Disney+'s The Mandalorian, Disney+'s Black History Month, Buffy the Vampire Slayer, Elon Musk/Twitter, Crunchyroll's My Hero Academia, and more!
Now, here's a look at your Bleeding Cool TV Coverage for Thursday, February 2, 2023:
SNL Knows There Ain't No Party Like a Pedro Pascal/Clicker Twerk Party
Samoa Joe Wins TNT Title in Violent AEW Dynamite Main Event
James Gunn on Harley Quinn Continuing at HBO Max: "Oh Yes"
House of the Dragon Season 2 Filming in London, Spain This March?
AEW Announces New House Show Touring Program, AEW House Rules
The Walking Dead: Is Daryl Dixon Spinoff Looking to "Raise the Dead"?
The Umbrella Academy Season 4 Filming Underway: Showrunner/EP Blackman
AEW Dynamite Preview: AEW Strikes Back After Royal Rumble Weekend
The Flash S09: Danielle Panabaker Looks Back on Frost-Filled Seasons
Pennyworth: HBO Max Ends The Origin of Batman's Butler with Season 3
Carnival Row Season 2 Previewed in February 2023 Prime Video Trailer
True Detective: Night Country Hires Mother Nature for Visual Effects
The Blacklist Ending with Season 10; Trailer, Preview Images Released
Saturday Night Live Sketch: Pedro Pascal Suffers "Joel on the Brain"
AEW Together: Company Reboots Its Community Outreach Program
Frasier Returns to Boston as Sequel Series Production Gets Underway
Wonder Man Listing Confirms April Film Date, Baron Zemo Involvement
The Last of Us Episode 3 Boosts Linda Ronstadt Song "Long, Long Time"
James Gunn Asks The Superman Question The World Needs Answered
Steven Moffat Sees Doctor Who Going on Forever, Still Not Coming Back
Creature Commandos: J. M. DeMatteis Reacts to DC Studios Series News
The Mandalorian Brings a Darksaber to a Gun Fight: Season 3 Key Art
The Flash Season 9: Danielle Panabaker Q&A; S02 "Flashback" Poster
Black Panther: Wakanda Forever Opens Disney+ Black History Month Today
Sarah Michelle Gellar on Why We Have Dolly Parton to Thank For "Buffy"
Elon Musk Protects Tweets: Was It Something Millions Said?
My Hero Academia Season 6 Ep. 17 A Tale of Abuse & Regret: Review
DC Studios: Gunn & Safran Unveil Their DCU Slate (BCTV Daily Dispatch)
Justin Roiland Twitter Silence in the Daily LITG 1st of February 2023

Bleeding Cool TV on Instagram: For all of the stuff too random and bizarre to make the site, make sure to follow us on Instagram: Bleeding Cool TV (@bleedingcooltv).
BCTV Daily Dispatch: For a look at what's going on across the television and streaming landscape, sign up for Bleeding Cool's daily email round-up of the news you need to know here.