DC Studios: Gunn & Safran Unveil Their DCU Slate (BCTV Daily Dispatch)
In today's BCTV Daily Dispatch: DC Studios' James Gunn & Peter Safran's series announcements include Booster Gold, Creature Commandos & more.
---
With today's BCTV DD "Long-Distance Dedication" bringing us Wig Wam with "Do Ya Wanna Taste It," welcome back to the BCTV Daily Dispatch! But for this go-around, we have a special edition focusing on our coverage of DC Studios co-heads James Gunn & Peter Safran as they revealed the first round of projects making up their "big picture" blueprint for the DCU. The lineup included the animated Creature Commandos, the Amanda Waller (Viola Davis)-focused Waller, the Green Lantern series Lanterns, the Wonder Woman prequel series Paradise Lost, and a Booster Gold series. And let's not forget what Matt Reeves has going on in his "Elseworlds" The Batman universe with the Colin Farrell-starring Penguin as well as an Arkham Asylum-based series. Here's a look at yesterday's coverage, followed by a look at all of the non-DCU news that hit the pop culture landscape on Tuesday, January 31st.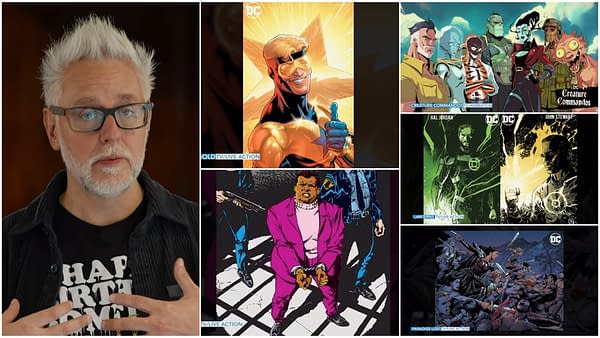 BCTV Daily Dispatch Rewind: Our DC Studios' DCU Coverage
Booster Gold Creator Dan Jurgens "Thrilled," "Excited" for Series News
James Gunn, Peter Safran Proved Streaming Matters in Their DCU Plans
Titans Writer/Producer on James Gunn's DCU Vision: "He's A Real One"
James Gunn On Old DC Films: "No One Was Minding The Mint"
Peacemaker Season 2 On Hold; No Greg Berlanti/Green Lantern Series
Superman & Lois Expected to Run "One or Two More Seasons": Gunn/Safran
Booster Gold, Wonder Woman Prequel, Lanterns Lead DCU Series Slate
Snyderbros, Leaky Pools & Lofty Dreams: James Gunn/DCU Watch Thoughts
BCTV Daily Dispatch: Meanwhile…
The Three-Body Problem Ep. 10 Review: The Mystery of the Ye Women
Kathy Bates' Matlock Reboot, "Good Fight" Spinoff Get CBS Pilot Orders
The Umbrella Academy Star Justin Min: "And We're Back" for Season 4
WWE NXT Preview: The Last Stop On The Road To Vengeance Day
WWE Raw Highlights: Carmella, Rick Boogs Return on Post-Rumble Show
Ghosts Season 2 Ep. 15 "A Date to Remember" Overview, Images Released
The Rookie Season 5 Ep. 14 Preview: Meet Lucy Chen: Fist of Justice!
The Nevers: Joss Whedon Series' Unaired 6 Episodes Set for Roku, Tubi
Dexter: New Blood Season 2 Not Happening; Prequel Being Eyed: Report
King of the Hill: Hulu, Mike Judge, Greg Daniels Set Series Revival
Elimination Chamber Plans Revealed at Post-Rumble WWE Raw
Peacemaker Season 2 On Hold; No Greg Berlanti/Green Lantern Series
The Last of Us: Stephen King Questions HBO Series Over Boston Claims
Westworld Finds New Home at Roku, Tubi in Warner Bros. Discovery Deal
Saturday Night Live Welcomes Pedro Pascal & Coldplay to Studio 8H
Frasier Sequel Series Pilot Ep Title, Writers & Director Info Released
The Last of Us Season 2: Some Casting Thoughts on Part II's Abby
WWE Raw: Rhea Ripley Chooses Charlotte Flair for WrestleMania Match
The Flash, The Last of Us, Picard, SMG/MCU & More: BCTV Daily Dispatch
Rick & Morty Continued Silence in The Daily LITG, 31st January 2023

Bleeding Cool TV on Instagram: For all of the stuff too random and bizarre to make the site, make sure to follow us on Instagram: Bleeding Cool TV (@bleedingcooltv).
BCTV Daily Dispatch: For a look at what's going on across the television and streaming landscape, sign up for Bleeding Cool's daily email round-up of the news you need to know here.