Funko Round-Up: Kingdom Hearts 3, Summoners War, Overwatch, and Aquaman!
Funko announces tons of new products and licenses every day, let alone every week. It can be a lot to keep up with. So we are here to help. Welcome to the Funko Round-Up! In this edition: lots of gaming Pops, and Overwatch gets two new ones, Summoners War debuts, Kingdom Hearts 3 product is revealed, and an Aquaman two-pack is coming! Let's take a look: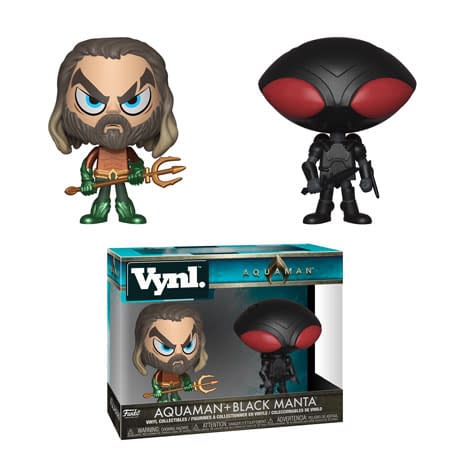 And that two-pack will be a Vynl pack of Aquaman and Black Manta. This is one of the better Vynl packs I have seen, I especially like that Manta one. That will be out soon.
Two new Overwatch Pops are available right now by clicking here. Zenyatta and a witch version of Mercy, both look incredible. Mercy is a must-own.
Next up is a wave of Pops in support of the game Summoners War. I know exactly zero things about what this is, so take it away Funko!
Summoners War is a strategic mobile RPG where you
groom your monsters as you like. It is a contest of wits
where your strategy in creating your perfect team for
the occasion is key to victories. With countless combinations,
being lucky and diligent certainly matters, but not as much
as your strategy. With close to a thousand variations
of monsters, you may need some luck to get the very
monster you want, but here's
your chance to pick and choose a Funko Pop! version!

Maybe you love them in the game, maybe you love to
hate the opponents who have them in the game, but you'll
love to show them off as a Funko Pop!
They are available this fall.
Finally today is a look at what will be available from Funko in support of Kingdom Hearts 3. The game is finally coming out in January (is it though? I still don't believe it), and you can bet this is the first of many waves from the game. A wave of Mystery Minis will be available, with exclusives appearing in cases at Hot Topic, and we will also be getting two Pop Keychains and four different Pop Pens.
Eleven new Pops will also be available, with no less than five different versions of Sora available. Three of them will be exclusives: His Drive Form at Best Buy, Sora with blasters at Gamestop, and the Toy Story world version of our hero. My favorites here are the Monsters Inc. world versions. I have seen these in Hot Topic already, and all three are fantastic. All of this KH3 stuff will be available throughout the fall.
You can preorder many of these products right here!