Th main man Lobo is getting a new maquette from Sideshow Collectibles. Up for preorder today for shipping in late 2019, there are two versions available: a regular edition for $730 and an exclusive version with an alternative portrait for $750. Each stands 20 inches tall and feature Lobo firing a ridiculously big gun, fabric pants, hid vest that says "Bite Me Fan Boy" on the back, and a base that features him standing on top of an alien.
Check it out below, and place a preorder right here.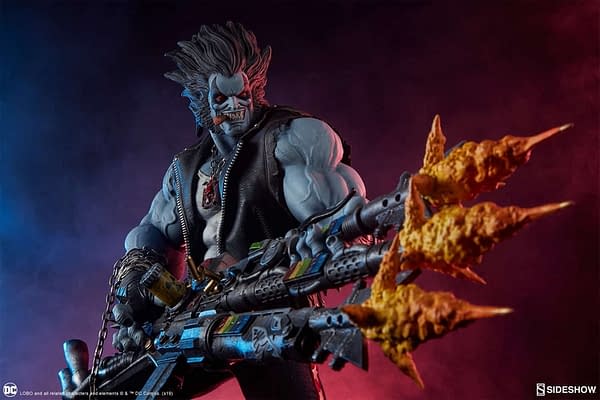 Sideshow presents the Main Man himself, the fraggin' Lobo Maquette.
The Lobo Maquette measures 20" tall and 23" wide as the cigar-chomping intergalactic bounty hunter plays a killer riff on a ridiculously detailed three-barreled guitar gun. Packed with Easter egg details, this statue is a must-have for fans of this big bad bastich.
The Lobo Maquette features a mixed media costume, combining sculpted elements with detailed fabric applications. Lobo has a sculpted undershirt, gloves, and skull-topped boots along with custom-tailored fabric pants and a faux-leather vest with his iconic 'Bite Me Fan Boy' patch slapped on the back. This polyresin maquette also features several metal chain elements, holding his signature necklace and giant hanging hook.
The Exclusive Edition of the Lobo Maquette includes an alternate portrait featuring dreadlocks and a vicious snarl. Give the Main Man an updated look with this badass additional display option.
The last Czarnian is ready to rock your world- Bring home the bounty and add the Lobo Maquette to your DC Comics collectibles today!
Enjoyed this article? Share it!