Let's Take a Look at The Loyal Subjects Masters of the Universe Wave 2
Masters of the Universe Loyal Subjects figures are some of the coolest that the company has ever offered. Their first wave was easy to track down, and while the ridiculous odds of putting a full set together make it a little less fun to collect, damn if they are not fun to have on the shelf. Wave 2 was shown off, and it took so long for them to come out that most of us forgot about them. When I walked into Hot Topic last week and saw the remnants of a case, I snatched up all they had left. Let's take a look at them shall we?
These new Masters of the Universe figures feature the new type of boxes they are offering. Gone are the blind boxes of old, although some do have a paper over the bubble. Most come with a small window showing off the figure inside. Like always, the sides and the backs show off the rest of the figures in the wave including the really rare ones you will never get on the back. I really like this new box, and I hope they stick with it.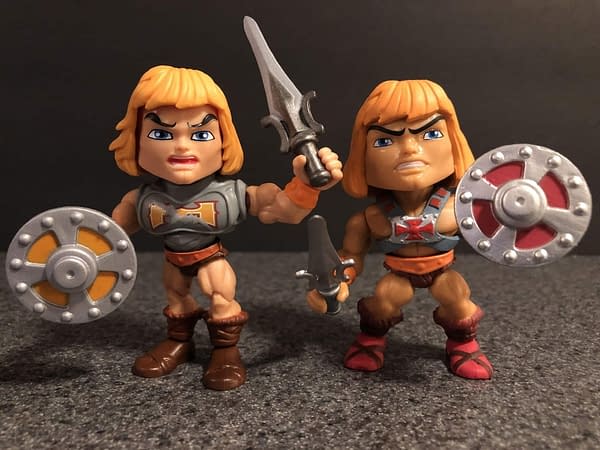 Comparing He-Man's, you can see that these fit in smoothly with the first waves figures. The legs on these new ones seem sturdier though, and they don't bow into the middle like previous figures. Little changes like that will keep me coming back. I got my hands on four Masters of the Universe figures in all: Battle Armor He-Man, Fisto, Mekaneck, and one of my most wanted figures, Mer-Man.
Sadly, each figure has flaws. Battle Armor He-Man doesn't hold his weapons very well, Fisto falls over a lot when holding his sword, Mekaneck is missing his other head so I can't display him with his neck extended, and he also came with two right arms. Mer-Man's right arm comes off when you move it. Just a disaster on QC. For how much these cost, they need to do a much better job than this.
Overall, I can't say I am happy with this purchase. If I was not a huge Masters of the Universe fan and a sucker for all things He-Man, I would gladly not give this line another cent after all the issues these have. As Hot Topic exclusives, good luck finding them as well. The sculpts are great, but that doesn't do you any good when the figures have so many problems.
If you want to try your luck with these, head here.