Masters of the Universe collectors currently are weighing their options (literally) as they have until May 31 at 11:59 PM PST to decide if they want to place an order for Super7's Snake Mountain playset. The monstrous set stands at 36 inches tall and 48 inches wide, making it far and away the biggest MOTU playset of all-time. The problem most are having? It's $600 BEFORE factoring in a very high shipping cost, as much as $150 depending on where it is ordered from. This thing will only be orderable until the 31st, after that it's done. If they don't hit a minimum of orders, it is not being made. As of this morning, Super7 owner (and awesome human being) Brian Flynn says we are sitting at 35% funded for the set.
Look, I want this thing more than anything. It is the set of MOTU collectors dreams. Not everyone could possibly afford this thing, let alone have a place in their home for it. But if you are on the fence, let me ask you something: when will we ever have this chance again? This is surely the only time this thing will ever be offered, hell we haven't had a new Castle Grayskull in 6 years, and even that is just a fraction of the size of this thing. Like the Haslab Jabba Sailbarge last year, this is the highest end of highest end collectibles and if you can afford it, why wouldn't you want this? Fans and collectors have been dreaming about this thing being made forever, and now that it's here I am a little surprised how hesitant people are to order. I can understand internationally how the shipping would make you have second thoughts, as international freight shipping can cost almost as much as the product itself. S.P.A.C.E. is handling the orders in Europe, and it costs…well a lot. Mexico, Canada, and other territories will have shipping options locked in shortly.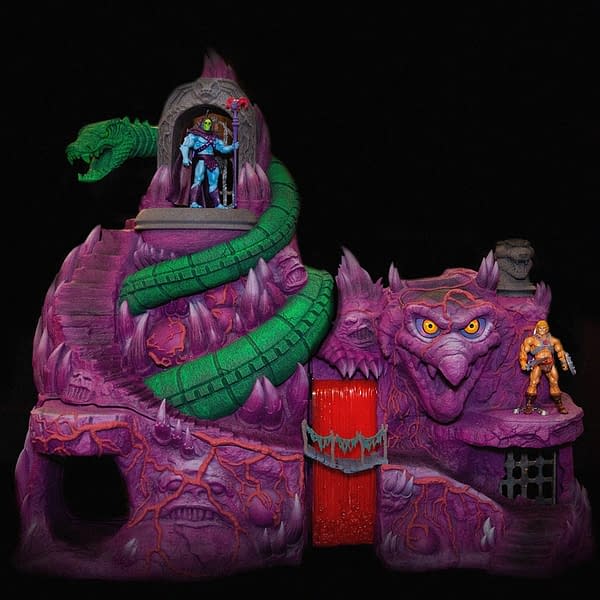 It would really suck to see this not get made.I will be ordering mine, and hopefully this thing can reach the finish line. Here in the US you can order directly from Super7 here, or through Big Bad Toy Store here and Entertainment Earth here.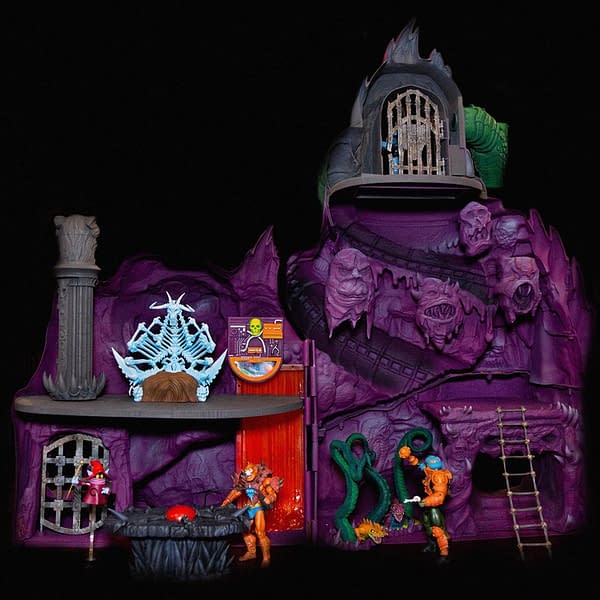 Here we go at last! The evil Skeletor's massive, and we mean MASSIVE, fortress is here: The Masters of the Universe Collector's Choice Snake Mountain Playset! The highly detailed playset features:
Snake Mountain stands 36-inches high and opens to a staggering 48-inches wide
Demon with moveable jaw
Narrow bridge of red hot lava falls
Functioning trap door
Real chains to shackle Skeletor's enemies
Break-away wall secret entrance Skeletor's table and bone throne
Horrifying dungeon creatures
Scaled for Super7's MOTU Collector's Choice deluxe 7-inch figures (figures not included)
All this makes this the most absurdly large Masters of the Universe playset ever made!
Snake Mountain will come packaged in a deluxe art box (measuring approximately 25" x 25" x 28"). For delivery this will be wrapped in protective paper and protected with inner foam corners and shipped in a larger plain (no logos) protective outer shipping box.
This is a made-to-order custom made, pre-order item.
PLEASE READ ALL OF THESE PRE-ORDER DETAILS BEFORE PLACING YOUR ORDER:
Orders are only available to U.S. DOMESTIC DELIVERY ADDRESSES ONLY. The per unit shipping cost to all U.S. domestic addresses will be $150 per playset.
International Order details will follow.
The pre-order window for the playset opens on Wednesday, May 1, 2019 at preorder.super7.com and will close on Friday, May 31, 2019.
The production and release of this item depends on Super7 receiving a minimum number of orders before the pre-order window closes. If this minimum is not met the Snake Mountain Playset will be cancelled and orders will be refunded.
A non-refundable deposit of $100 is required for this pre-order. Deposits will be returned if the Snake Mountain Playset is cancelled.
If you pay in full at the time of purchase and the Snake Mountain Playset is cancelled by Super7, full payment will be returned.
We are offering a payment plan option at checkout for those that would like one. The payment plan will break your purchase into 6 separate payments, and will be managed by our partner Partial.ly.
Enjoyed this article? Share it!