Masters of the Universe Toy History Book Coming From Dark Horse
Masters of the Universe fans and collectors have a new tome to add to their Dark Horse collections, as The Toys of He-Man and the Masters of the Universe will come from the publisher this winter. 'Pixel Dan' Eardley, MOTU superfan and MOTU historian Val Staples produced the book, putting hours upon hours into the research and photography for the book, which will feature over 700 pages covering every toy line, from the original Masters of the Universe line from the 80's through She-Ra and even the MOTU Classics line and everything in between. Basically, if you enjoy the line at all, this book will be a must buy.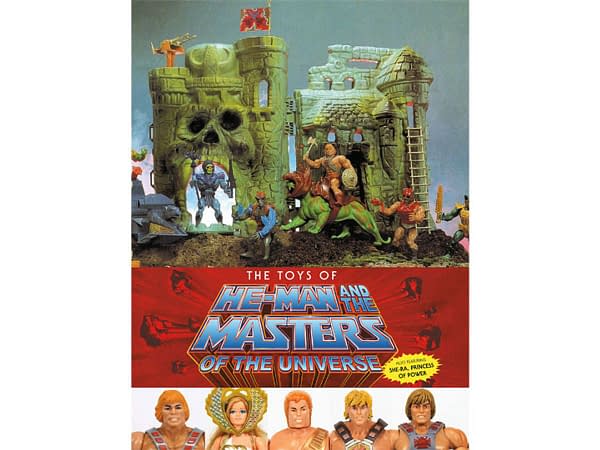 Masters of the Universe Fans: This is a Instant Buy
"In the 1980s, the Masters of the Universe toy lines shook the world of children's entertainment to its foundations. Now, YouTube influencer "Pixel Dan" Eardley and He-Man historian Val Staples have worked with fans worldwide to cultivate this incredible volume that contains in-depth overviews of every item in several complete toy lines, including: 1982's Masters of the Universe, 1985's Princess of Power, 1989's He-Man, 2002's MOTU relaunch, and 2008's MOTU Classics! In addition to expertly-researched documentation of the toys' development and unique variants, each entry also includes photographic reference of the heroic figures and playsets from decades of development. This phenomenal tome also features never-before-seen interviews and designer commentary from the toys' creators, offering keen insights into the genesis of a product that inspired millions of young imaginations.
With over 700 pages of lovingly assembled content, this compendium is the perfect addition to any Masters of the Universe fan's collection. By the power of Grayskull, you have the power!"
The book is up for preorder pretty much everywhere now, including at your local comic shop. Give them the Diamond code JUL200291. It should be in stores in November, and we cannot wait.