[rwp-review-recap id="0"]
Poison Ivy has taken over the world. Batman and Catwoman are apparently trying to test the limits of her hold over them, and Ivy responds with the Justice League in kind.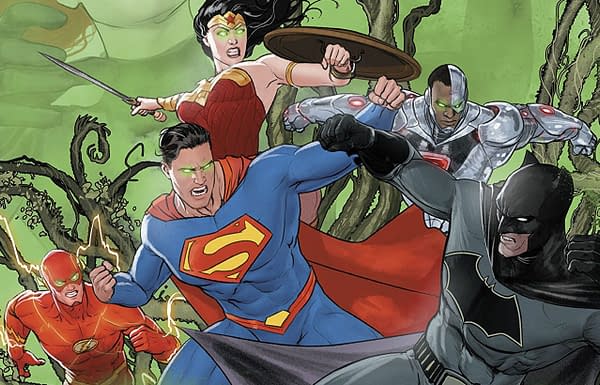 With Batman #42, the plot kicks into gear, and we see what this arc is going to be like. While the premise as interesting from the get-go in Batman #41, this installment brings a lot of fun between the Bat and the Cat while they try to deal with the Ivy situation.
Tom King ramps up the tension rapidly when the Justice League responds to Bruce and Selina's antics. It starts off almost comical when the Flashes come in, but things get serious when Big Blue is let loose.
Of course, what really makes it is the chemistry between the Bat and the Cat, which King has managed to hone like a fine tool. Their dynamic is one of the primary things which sold me on this series, and King has kept me impressed with how relaxed he can make Batman seem with Catwoman at his side. I would probably be content with an entire comic of these two just chatting and ribbing one another.
Catwoman and Poison Ivy have a history too, and the comic shines in that regard too. At one point, the two have some alone time, and their exchange is great. Ivy's intentions here are still suspicious, but you get some grasp of what she's trying to accomplish and what exactly has motivated it.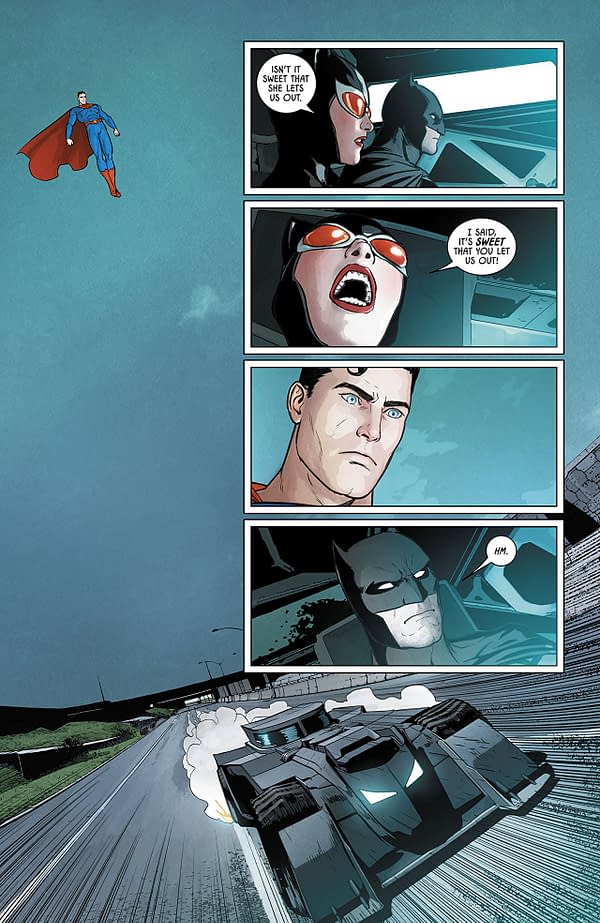 Mikel Janin and June Chung continue to provide their talents in this issue, and, as a result, the comic looks great. The brief action sequences look amazing, and they know how to shock when the need arises. Plus, Chung's color palette is an appealing balance of blacks and whites offset by the occasional colorful costume.
Batman #42 is yet another compelling entry in King's run with the character. It takes the premise of last issue and drives it to interesting places while keeping a tantalizing distance from what is really going on with Poison Ivy. Janin and Chung ply their talents to wonderful effect, and this book earns a recommendation. Check it out.
[rwp-review-ratings id="0"]
[rwp-review-form id="0"]
Enjoyed this article? Share it!