Cyclops and Beast are the second statue set from the '90s X-Men Animated series on the way from Kotobukiya. The first was revealed a couple weeks back: Wolverine and Jubilee. These statues are 1/10th scale and stand around seven inches tall, and like all other ARTFX+ statues features awesome sculpting work and iconic poses. This two-pack features Beast in his "Hmm…" pose and Cyclops in his "NYAGHHHHGHHHH!!!!" pose right before he blasts someone. It will run you $85 and is up for preorder now for release in September. Both this one and the Wolverine and Jubilee X-Men statue packs can be preordered by clicking here directly from Kotobukiya themselves.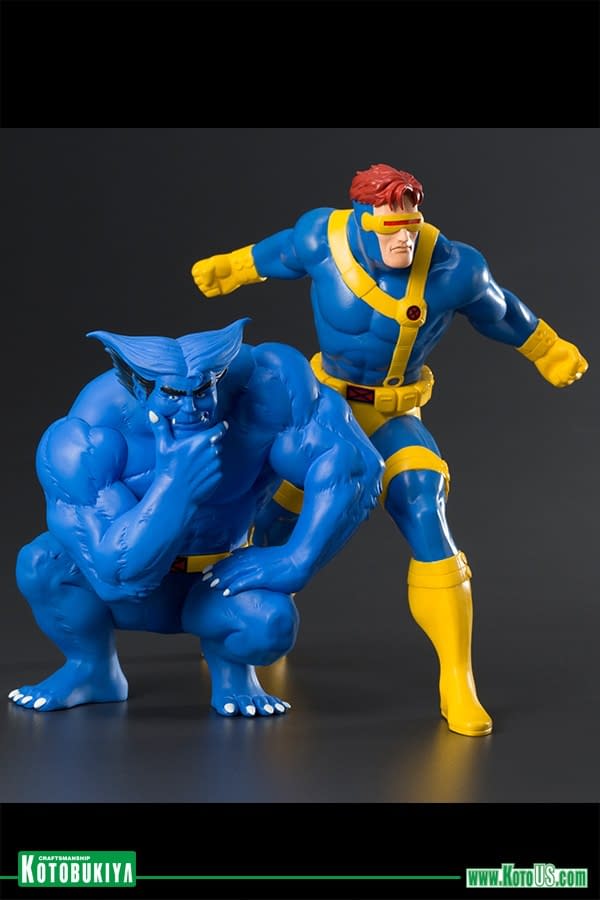 The classic X‐Men series has garnered a lot of attention recently due to success Fox's television series The Gifted and the upcoming New Mutants film. Now, Kotobukiya presents a line of highly collectible ARTFX+ figures inspired by the golden age of the X‐Men series! These retro‐style figures feature characters from the 90s X‐Men Blue and Gold Teams.

This X‐Men line takes full advantage of the ARTFX+ line's collectible nature, bringing you two statues for the price of one! This time's two pack features the leader of the Blue Team—who has appeared in countless comics, animations, and even video games—Cyclops in his classic blue and yellow costume, and the brains of the blue team, Beast, complete with removable glasses.
Enjoyed this article? Share it!