Game of Thrones Arya Stark from ThreeZero Fully Revealed
Game of Thrones heroine Arya Stark is getting new 1/6 scale figure from toy company ThreeZero. It will be available worldwide this Tuesday, January 16th and cost $178 in the US. Their Daenerys figure was a bit of a disappointment from prototype to final product, but hopefully after successful releases of other properties, they knock this one out of the park.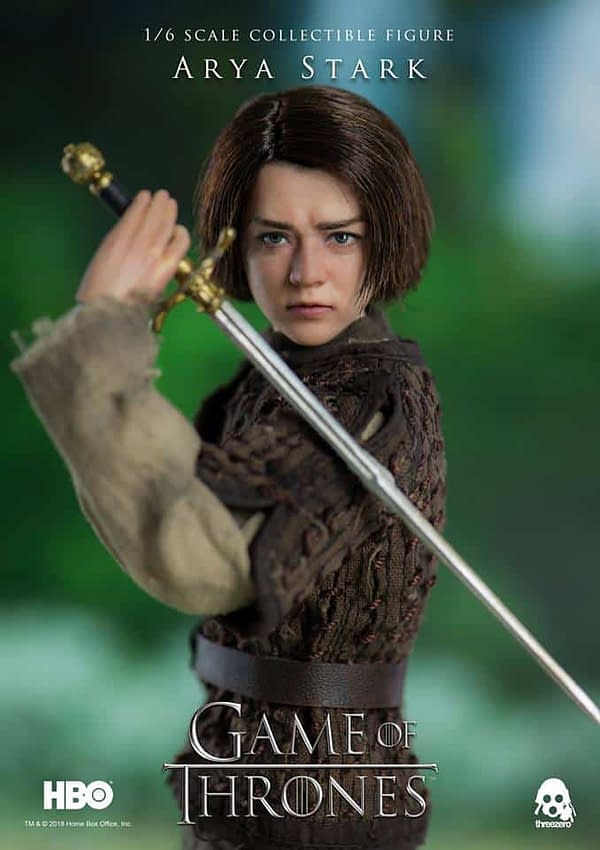 The next release in our extremely well-received Game of Thrones 1/6th scale line of collectible figures will be the fiercest of House Stark, Arya! The Arya Stark figure will be available for pre-order for a limited time at www.threezerohk.com, beginning Tuesday, January 16th 09:00AM HKT.

Priced at $178 USD / 1385 HKD with worldwide shipping included, the Arya figure stands at approximately 10" (~25.5cm) tall, featuring an authentic likeness to the character as portrayed in HBO's critically acclaimed 'Game of Thrones' television series drama and hand-knitted tunic pattern replicating the award-winning costuming of HBO's team.

All accessory details are listed below. Orders placed at www.threezerohk.com will also receive a free give away 'Game Of Thrones' t-shirt. 1/6th scale Game of Thrones Arya Stark collectible details:

* 10 inches (~25.5cm) tall articulated figure featuring tailored clothing with fine detailed textures.

* Tunic with hand-knitted pattern

* Shirt

* Trousers

* Belt with buckle

* Boots Accessories:

* Needle

* Knife

* Waterskin

* Coin pouch with coins

* Braavosi Coin

Exchangeable hands: * 1 pair relaxed * 1 pair fists * Left hand for gripping Needle and knife * Special pose of left hand for gripping Needle

* Final product may vary from prototype images.
Just like the Daenerys, the prototype looks amazing. If nothing else the accessories are extremely well done. They got a really good scan on Maisie Williams for this one, so hopefully that carries through the production stage. I am glad they included the Braavosi coin as an accessory, as well — those kind of little touches go a long way with these kinds of high-end product. Looks like they are even teasing a Hound figure back there, too.
As stated above, this one goes up for preorder worldwide this Tuesday, January 16th. You can do so right here.