Musician seems almost too easy a word to describe Jack White, but he can add interviewer into his ever expanding repertoire. Most recently, he donned the reporter's cap to speak with Gary Oldman for Interview Magazine about the fabulous film, Darkest Hour.
If you're unaware, Gary and Jack aren't unknown to each other, as Gary directed Jack's Amex Live concert film in 2012.  Reading the two of them converse makes you feel like you were present in the room, and my admiration for both of them continues to grow.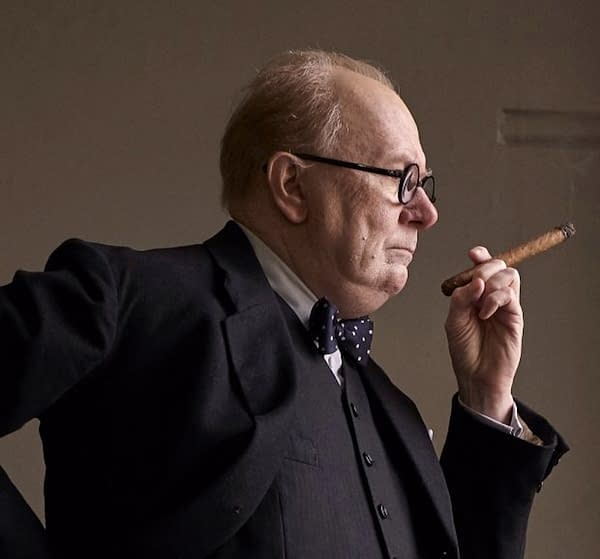 They talk mostly about Winston Churchill, the role Gary admirably tackles in director Joe Wright's film about the five week period of British history that changed the future of the island nation forever.  From discussing research of the prime minister's life and work, to the process of creating a performance that wasn't just impressionary, the passion Oldman exudes for his craft is still a revelation. Here's a small snippet from the interview:
WHITE: I love how the movie explores all of that and shows people what could have been. You learn a lot about who Churchill was through your brilliant performance of him. What a bizarre character he was. At times, he was an incredible speaker, and other times he was almost like a grumpy old man in the corner of a pub.

OLDMAN: He had a great relationship with the public. He was very honest and very up-front. Churchill said in a speech, "We have before us many, many long months of struggle and of suffering." He's not saying that there won't be enough bananas on the table; he's telling the people that this is going to be very ugly. And the people loved him for that. I heard a story once that at a gathering of former British prime ministers, the conversation came around to Churchill, and there was a Churchill scholar among the group. One of these prime ministers—I don't know who it was—said, "Who wrote Churchill's speeches?" And the scholar said, "Well, he did." And this ex- prime minister said, "How on earth could he have written his own speeches? How could he possibly have had the time?" And the scholar said, "It's probably not the answer you want to hear—he was a genius." He was just one of those incredibly gifted people who had an amazing brain.
You can read the rest of the interview from the November issue of Interview Magazine over on their website here.
And for some additional bonus Gary Oldman awesomeness, check out this clip from last night's Tonight Show With Jimmy Fallon complete with impressions and the shocking price tag of those Churchill cigars:
Darkest Hour is set to open in theaters on November 22nd, 2017.
Enjoyed this article? Share it!