Diamond Select Toys now have also revealed some Avengers: Endgame products. Gallery PVC statues, Premiere Designer Statues, the coolest looking resin Thanos statue you can imagine, and new MiniMates figures were all revealed on Marvel.com this morning, and this promises to be the first of many, many products from the film. Case in point: they are still releasing Infinity War product a year later. These will all be in stores and online to order this summer. Check them all out below!
The Avengers line-up may have been decimated in Marvel Studios' "Avengers: Infinity War" – but that doesn't mean we're lacking in incredible collectibles based on the survivors! Thanks to Diamond Select Toys, we can celebrate the characters continuing the good fight in Marvel Studios' "Avengers: Endgame" – in theaters April 26 – with a variety of statues and action figures.
Ant-Man, Iron Man MK85, and a deluxe Hulk will kick off the action as parts of the nine-inch-scale Marvel Movie Gallery "Avengers: Endgame" PVC Diorama line. The first two have a suggested retail price of $49.99 while the Jade Giant will run around $69.99.
Meanwhile, the Marvel Movie Premiere Collection will expand to include "Avengers: Endgame" versions of Black Widow and Captain America in their most well-known movie costumes. Both of these pieces will stand around a foot tall and cost around $150, but are also limited to 3,000 pieces.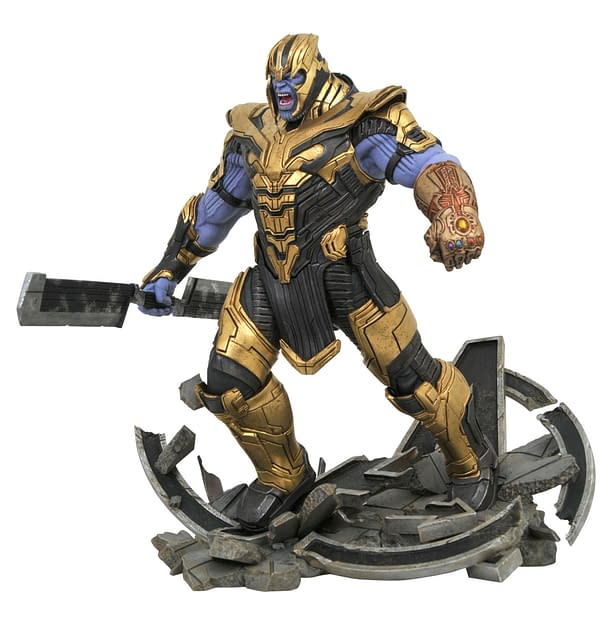 All these heroes need someone to face off against on your shelf, right? Enter: Thanos! More specifically, the Marvel Movie Milestone "Avengers: Endgame" Thanos Resin Statue! In the 12-inch scale, this bad boy actually stands 16-inches tall! Limited to just 1,000 pieces, the Mad Titan comes in a hand-numbered box and will sell for roughly $500.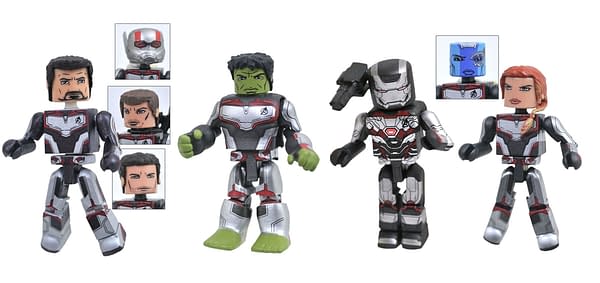 Finally, fans of the long-running, two-inch-tall MiniMate line will be glad to see the "Avengers: Endgame" Box Set on shelves. This $24.99 collection includes Tony Stark, Black Widow, Hulk, and War Machine in their new team suits. Better yet, the box will also come with swap-out heads of Ant-Man, Scott Lang, Clint Barton, and Nebula!
Enjoyed this article? Share it!