Remember when we were kids and an ad to announce a new set of figures involved showing some kids playing in the dirt with some toys that looked about as realistic as the monsters on the Tom Baker run of Doctor Who. Now you got a company like Sideshow making a minute-long video with intense music, computer graphics and explosions to showcase a new line of Premium Format Figures… which seem like statues to me. And that's what we've got here, Sideshow showing off their Spider-Man Premium Format Collection.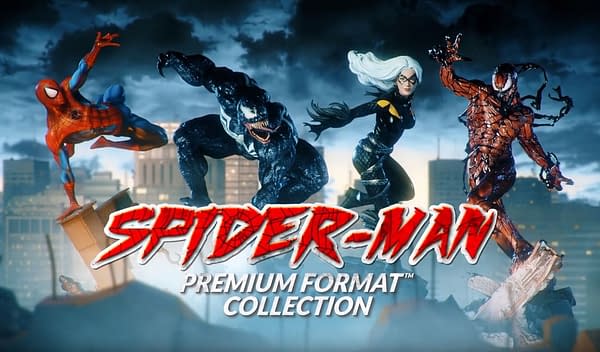 The video features new premium format figures of Spider-Man in his classic red and blue suit, Black Cat in one of her more modern outfits, Venom and Carnage… both wearing symbiots. The figures are featured in the video on the rooftop in the New York skyline in a building that seems to be exploding. Interestingly when you go to the page, there is also a Green Goblin figure shown but he's not featured in the video. These are all over 22" tall and cost in excess of $450.00 each… so these are for the serious Spider-Man collector. Or the guy that just won the lottery.
To see more of the Spider-Man Premium Format Collection click here.
Enjoyed this article? Share it!