The Complete Bleeding Cool Top 100 Power List of Comics 2019, in Full
Here you go folks, in full, the Top 100 Power List of Comics, 2019 Edition.
Every year, Bleeding Cool runs its Top 100 Power List of members of the English-speaking comic book industry, weighted towards the direct market. It is judged by all manner of attributes, the ability to influence what comics exist and sell, but also the willingness to use that power in the industry to affect things, and the ability to retain said power if a job is taken away. Which is why you will see a number of people on a higher spot than their bosses or superiors. It also helps if they have a multiplicity of disciplines – a comic publisher that also has a comic store chain is often a plus, a comics creator who also works as an agent is another. But the one thing that everyone will be able to agree on is that this list is wrong. It is informed by my own perspective and, while I receive counsel across the industry every year, it will always be a judgment call. Don't like it? do your own list and justify those choices, as I will try to do with mine…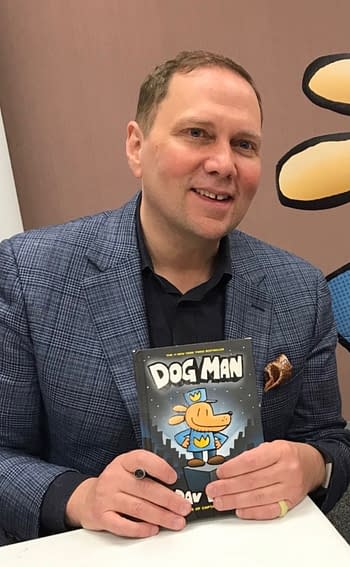 Dav Pilkey (New Entry) The best-selling comic creator in the USA, with his comic series Dog Man now beating out his semi-comic book series Captain Underpants, 2019 saw him dominate the best-seller charts with both selling in their millions – Dog Man had a five million print run, matching Asterix for the first time – and sold out. The 2019 volume For Whom the Ball Rolls, only released in August has already sold 40% more copies than last year's Lord of the Fleas in total, and that was before Christmas sales figures came in, and he pulls massive crowds wherever he tours. No one can touch him, everybody wants to sell like him and publishers are doing their best to get their creators to look like him too.
Kevin Feige (Up) The Head of Marvel Studios is now the new CCO of Marvel, who has dismissed Ike Perlmutter from having any creative role in the company. He has taken creative control of the TV, games, merchandise and comics, alongside the films he already headed up. The comics have often tried to mirror what he was doing in the films, now they finally have a direct line – to Feige's people at least. Let's see how he makes 'em jump in 2020.
Pam Lifford, Walter Hamada and Jim Lee (Down/New Entry/Up) The DC Triumvirate. Pam Lifford, President of Warner Bros. Global Brands and Experiences, Walter Hamada, Head of DC Films and Jim Lee, Publisher and CCO of DC have created a tight threesome when it comes to shepherding the future of the DC brand with Jim Lee taking those broad brushstrokes and implementing that vision in the comic book arena and Walter Hamada guiding DC to not one, but two billion-dollar box office blockbusters with Aquaman and Joker. Expect more big wins from this trio.
Raina Telgemeier (Up) The second best-selling comic book creator in America, with her graphic novels constantly topping the proper bookseller lists as Scholastic Book Printing presses were reserved in advance for her two 2019 volumes, Share Your Smile and Guts. So many of DC and Marvel's bookstore-aimed titles are inspired by her work, in a hope to get close to what she has achieved.

David Saylor

(New Entry) Scholastic Vice President, Creative Director Trade Publishing, he is founder and Editorial Director of Graphix, the Scholastic kids graphic novel line, that dominates the bestseller lists. Once the art director for the American editions of the Harry Potter books, he now puts together one of the most successful comic book lines in modern history.
Dan Buckley (Down) Promoted from Marvel Publisher to full-time Marvel President, Dan Buckley has the reputation of being the connecting glue of Marvel Comics, where TV meets games meets comics meets merchandise. The promotion of Kevin Feige above him has seen him knocked down a couple of pegs but he has the knowledge that Feige relies on to give him the lay of the land.
Dan DiDio (Down) DC Publisher. With Geoff Johns knocked back, Dan DiDio has the opportunity to do what he has wanted to do for some time, rejecting the legacy tradition, and radically reinvent the DC comic book narrative in 2020, with as much impact, if more, as he did with The New 52. 5G? Maybe. It's reboot time.
Eric Stephenson (Down) Publisher of Image Comics, no one has quite the power – and willingness to use it – to take a completely unknown comic book creator and make them the talk of the town as well as pulling mainstream comic creators from their Marvel and DC teat. Stephenson is the bottleneck through which all comics are approved for publication or not, and he also seeks out new talent, keen for a diverse group of creators on the stage at Image Expo these days.
Jonathan Hickman (New Entry) He took a brand that had all but died through excessive toxification and wastage, and overnight (after about a year of preparation) took the X-books back to the top of the charts with House Of X, and has kept the X-titles back into the top ten, even when shipping five books a week. All the time while launching new self-publishing titles on the back of them.
Mike Richardson (Up) Usually when someone sells their company, they go down in the power stakes. But a hands-off approach from China to Mike Richardson's Dark Horse, with added investment, has seen Richardson keep control, and make bold, impressive moves through the year.Dark Horse Media is now composed of Dark Horse Entertainment through which he has a deal with both Netflix and Universal, Dark Horse Comics, and the Things From Another World retail chain.
CB Cebulski (Up) Editor-In-Chief of Marvel Comics, he spent 2019 slowly remaking Marvel in his own image – and that means a wider variety of comic book creators from across the world, especially East Asia, with books to match. He has been pushing 'connective tissue' to create more of a shared universe than in recent years, and even a bit more fun around the place.
Scott Snyder (Up) Imagine what it would be like if Brian Bendis sold well? With Justice League and Batman: Last Knight concluding with Metal 2/Dark Metal to come, Scott Snyder is big enough for DC that creative summits come to his house rather than him travel. Along with the biggest creator-owned launch in recent years in Undiscovered Country, 2019 was Scott's year and 2020 should be too – at least until the DC reboot comes along.
Donny Cates (Up) Can this man do no wrong at Marvel? He revived Venom from a low to a top seller, kicked off the Absolute Carnage series that outperformed parent books, ran a series of cosmic books including Silver Surfer and landed on Thor, ticking off the checklist of comics he has wanted to work on, all while keeping his creator-owned titles spinning in prominence. The closest Marvel has to a guaranteed hit writer,
Frank Miller (Up) Possibly the best known living comic book writer and artist, through a mixture of films based on his comics and using his name in their titles, as well as the legacy of Dark Knight Returns, Miller has more Dark Knight plans for DC, more Sin City and 300 plans for Dark Horse and now his Netflix deals which are likely to keep him near the top of this list if they continue to sell in the same way. And now his messages appear on the streets of Hong Kong in protest… but it's his new CEO Silenn Thomas who is the driving force here, and set to make a name for herself to rival his.
David Gabriel (Down) Senior Vice President of Sales at Marvel, ructions at Marvel have helped David Gabriel this year, still getting his one major death-per-quarter once made that there was a scheduled character death every quarter. In charge of pushing the public perception of the Marvel superhero across media, and has considerable editorial input as well to create the kind of comics that he can make everything sit up and take notice of. And keeps pushing those variant covers that everyone says they hate but buy anyway.
Steve Geppi (Up) President and sole owner of Diamond Comic Distributors, he has been taking a stronger hand on the tiller, moving people from Diamond to the overarching Geppi Family organisation, leading many to speculate if a massive change to the direct market is coming.
John Nee (Stay) Publisher of Marvel Comics. A low public profile for a man in such a position, Nee has a long experience as Publisher of Wildstorm, SVP of Business Development at DC, CEO of Cryptozoic, he has an unmatched breadth across disciplines, media and brands – especially in comics – and seems to know everyone as a result. A strong political player he oversees the health of the comics line, keeping up quality, managing budgets and guiding marketing. Marvel calls him their secret weapon when it comes to making a lot of money.
Bob Harras (Up) Editor-In-Chief of the DC publishing line. This is more of a managerial role than at rival publishers, but Harras has a strong reputation for keeping the comic books coming out on time and enforcing stringent penalties for those who don't. A strong relationship with Jim Lee going back decades, Harras plays certain favourites among the creative teams and this year he was finally able to fire Tom King from Batman.
Joe Quesada (Down) He used to be the modern face of Marvel Comics, though Joe Quesada has managed to grab a little of that magic. No longer Chief Creative Officer at Marvel, but Executive VP and Creative Director Joe Quesada is heavily associated with the publisher and has stepped up to take a more proactive role within the publisher. A strong political player at the publisher, he can also bring his still-much-in-demand artistic skills to push one particular project over another.
Stan Heidmann (New Entry) New President of Geppi Family Enterprises, he's an industry newcomer but sits at the head of the table of Diamond and all of Geppi's other various holdings. He's a voice of change within the organization and we've already early signs of seismic change including the departure of Roger Fletcher, promotion of various VPs at Diamond, and consolidation of the leadership between Diamond and Alliance.
Tom Brevoort (Up) Executive Editor and Senior Vice President of Publishing at Marvel Comics, overseeing Marvel's line, and as a strong public face of Marvel Comics with a strong and active social media following. The longest-standing employees at the publisher, after celebrating 30 years, he is to all intents and purposes Marvel Comics.
Robert Kirkman (Down) Chairman of Skybound, and partner at Image Comics, the end of the Walking Dead has seen his placement drop. However there are strong performances from his other titles, and Robert Kirkman is still an Image partner and publisher of all the Skybound books, his own and others.
Brian Michael Bendis. (Down) His move to DC led to editorial fights over fiefdoms, but his sales have been far softer than anticipated. Still, he was able to make major changes with Superman regarding his secret identity – with plenty more to come in the lead up to the reboot – and has continued to bring his friends into DC with him for the Wonder Comics line, even if the creator-owned titles he also brought over have diminished. He'll spend 2020 seeking to justify his privileged status at the publisher.
David Steinberger (Up) In charge of ComiXology, the digital comic book distributor and publisher that continued to provide a very strong way for people far from comic shops or bookstores to connect with their favourite stories, and has seen the likes of Die, Ms Marvel and Critical Role target a far larger audience than print would have allowed them. And ComiXology's creation and promotion of such titles has changed the rules by which people can successfully publish.
Al Ewing (New Entry) The writer who would be king, an encyclopaedic knowledge of comics – and that which he doesn't know, he will devour, he took a comic with very little anticipation. The Immortal Hulk and, with Joe Bennett, made it outsell Batman. His devoted fans justified, his success with that, and with the Marvel #1000 books see him setting up Empyre and Masked Raider bigtime in Incoming as well.
Alex Carr (New Entry) DCU Group Editor, after moving from a very successful run on the Young Adult line to taking the DC superheroes global, all eyes are on Alex as an inspirational leader and as a potential future publisher of DC,
Todd McFarlane (New Entry) Back with a bang. Co-founder of Image Comics, it was this year that Spawn #300 took its place back in the top titles in the industry and Todd picked up the pencil again too. Add that to the film he is still ploughing ahead with, and his meticulous attention to detail and he's earned his spot on this chart, possibly more than anyone.
Geoff Johns (Down) He may have dropped from CEO of DC, but he is still co-writing the DC movies and TV shows, Doomsday Clock was DC's consistent best-seller even as it slipped out of continuity and there's still The Three Jokers and Johns' announced-but-undetailed imprint The Killing Zone, set to match Brian Bendis' Wonder Comics line. We will see…
Tom King (Down) Tom King was the creator who could get his own Group Editor fired off the Batman books. This last year saw he limits of his power and influence as Batman sales softened and Heroes In Crisis was critically panned, Bob Harras took his opportunity to sack him off Batman. Nevertheless, the ability of his twelve-issue series as perennial sellers, and being picked to adapt his Mister Miracle series into the New Gods movie demonstrate DC is aware of and respects his ability and fan base.
Sana Amanat (Down) Marvel Vice president of Content and Character Development Director, co-creator and editor of Ms Marvel, she is a very strong voice internally and Marvel and a face for the publisher to the rest of the world. Her ten years at the publisher combined with her media profile and involvement with new projects at the publisher reaching out to new audiences.
Nick Landau and Vivian Cheung (Up) The owners of Titan Comics, Nick and Viv add to this portfolio by also owning Titan Magazine, Titan Books, the Forbidden Planet chain of comic book stores and other businesses you have no business knowing about. They have the reputation of a micro-manager at Titan Comics and is both the commissioner and gatekeeper of every comic book that goes through this publisher, with a range of licensed, creator-owned and translated comics work from Rivers Of London to Doctor Who to Robotech to Tank Girl, as well as working with both Marvel and DC.
Sean Murphy (Up) Writer/artist on the smash-hit comic book series Batman: White Knight series which outperformed all expectations last year and has seen him given the DC publishing keys to sequels and spinoffs at his leisure. Basically right now he gets to do what he wants (as long as it still doesn't include showing off Harley Quinn's nipples.)
Kieron Gillen (Up) Kieron is arguably one of 2019's biggest original hitmakers. In addition to winding down The Wicked + The Divine, he gave us Die and Once & Future which were two of the few stand out hits of the year. He doesn't come up to bat that often, but when he does he tends to hit it out of the park.
Mark Millar (Down) The man who sold Millarworld to Netflix, he continues to have an extraordinary ability to attract A-List artists to his projects even if they are no longer creator-owned,. His ability to launch a book has been lessened however and he had to sneak American Jesus past by disguising what it was. Still, he had the ability to ask for that and get it. The Netflix shows and films will help when they finally hit.
Isaac Perlmutter (Down) Chair of Marvel, it's been a shockingly bad year for him in terms of influence, with his creative input which he wielded with a broad brush taken away completely. He is still responsible for financial issues, which can and down include hiring and firing, budgets, advertising, promotions and bringing the money in. But the days of making a Spider-Gwen comic happen to screw over Sony, or cancelling Fantastic Four to screw Fox are gone.
Nicola Barrucci (Up)Dynamite Entertainment of New Jersey is the largest comics publishing company owned by one man – Nicky. He also owns Dynamic Forces and is rumoured to have fingers in comics-focussed websites as well. Between The Boys on Amazon leading to massive backlist sales and Vampirella #1 setting a new record for the franchise, he's been able to rebuild his war chest. No one in the business knows how to reposition classic licenses and keep them viable over a long stretch of time than Nick.
Jordan D. White (Up) Marvel's X-Men Group Editor, and the only one apart from Jonathan Hickman who has a handle on what the hell is going on. Has seen the X-fortunes turn around to dominate the charts once more – even if an awful lot of that is down to someone else, he's been the one keeping the trains (mostly) running on time by doing an awful lot of prep work.
Jamie Rich (Up) Now that Tom King is off Batman, so is Jamie Rich. So he is Superman editor instead. Being EIC at Oni Press, running DC Vertigo and writing his own comic books over the years have stood him in good stead even when it's now all about dealing with Brian Bendis – and all that 5G will bring.
Marie Javins. (Down) Dubbed by people I've spoken to as the 'editor of choice' at DC, she's back to putting comic book band-aids together, Convergence-style, to keep the whole of DC publishing on track.
Chris Ryall (Up) Ryall returned to IDW at the end of last year and has managed to create some new excitement at the publisher including bringing Stan Sakai's Usagi Yojimbo over, relaunching GI Joe and Transformers, creating speculator heat for their TMNT series, getting some original heat with Canto, and getting Joe Hill to do some new projects even as he launches Hill House at DC.
Ben Abernathy (New Entry) New Batman editor, as Tom King gets replaced by James Tynion – and with more potentially publicity-baiting changes to come, 2020 could be the Batman's most public year since the Tim Burton movie.
Ross Richie (Down) CEO of Boom Studios managed to build 2019 to end up at 4th place in the direct market in market share, right next to Image. Their snagging of the Whedonverse licenses combined with a streak of original series have resulted in higher sales and steadily increasing market share. Richie would have likely landed even higher on the list had Disney not squashed his dreams of a Mouse Guard film franchise two weeks before principal photography would have started on the $170 million production – and after $20 million in prep.
James Tynion IV (Up) 2019 was the year Tynion broke through. The combination of Something Is Killing The Children and the Batman writing role after Tom King brought James from a well-respected, successful supporting player to a star in his own right. Throw in The Woods pilot being developed at SyFy/UCP and Memetic with The Boys producers Seth Rogan and Evan Goldberg and he's having a heck of a year.
David Steward II (Up) Owner and founder of St Louis publisher, Lion Forge, is on the way up. A comics publisher recently undergoing its own restructuring, he sells himself as a photographer done good but is also the son of multi-billionaire David Steward, Chairman and Founder of World Wide Technology, Inc, with vast potential resources and funding opportunities to draw upon.
Jason Aaron (Down) Lead writer from Marvel of The Avengers, Aaron has been the connective tissue between the Alonso and the Cebulski EIC reigns and after War Of The Realms continued to build up Avengers 1,000,000 BC, Mephisto, Ghost Rider, Star Brand and more…
Grant Morrison, OBE (New Entry) A highly prized writer, he chooses his work sparingly and with care and with editors who know to get the hell out of his way. Magician, musician and marketer, each step he makes seems out of kilter with every other step, but when you look back there is just a straight line. Successfully and unpredictable, he is the very definition of the words commercial and artist, and with Liam Sharp and Steve Oliff did a lot of good with Green Lantern in 2019 and into 2020 – until the reboot happens, of course.
Kelly Sue DeConnick (Down) Writer of Aquaman, Bitch Planet and Pretty Deadly, a strong voice in the comics industry fuelled with the Captain Marvel movie based on her take on the character, she remains a font for advice, support and comradeship, and her production company with Matt Fraction, Milkfed, continued to develop new comics and adapt and represent them for other media.
Stanley Lau (Down) The effect that a cover by Stanley Lau can have on a comic book, especially if it concerns a young woman character, should not be underestimated and has a significant effect on the weekly charts. If he goes the way of J Scott Campbell and creates, markets and sells more of his own work than he does already, there's no limit as to where he goes.
Charlie Olsen (New Entry) Agent at Inkwell Management Literary Agency. An early adopter in the NY lit agent scene for comic book and graphic novel talent, he's amassed an impressive client list – Jeff Lemire, Noelle Stevenson, Matt Kindt, and Cullen Bunn among others. He's tough and aggressive in fighting for his clients, but fair. Charlie Olsen of Inkwell Management who seems to represent half of the comics artists who work at Scholastic.
Christina Merkler (Up) Co-owner of the international comic book discount site DCBS, Diamond Comics' biggest comics account, with a major influence as to what comics she recommends to her customers, she is also president of the Comic Book Legal Defense Fund, able to heavily influence which cases the activist free speech group take on.
Tim Lenaghan (Up) Part of Geppi's Family, he has oversight over the entire suite of companies. A voice of change within the organization, he also sees himself as a steward of the industry's health in a Paul Levitz fashion. Directly involved with anything that goes on in the direct market of comic stores and the book store market to whom Diamond supplies. He negotiates contracts with comic book publishers and has direct power over almost every one of them.
Mark Doyle (Down) The man behind Black Label and the smash hit that is Batman Damned at DC – and all that came with it. Being married to Boom Studios' Executive Editor Jeanine Schaefer also given him access to a much wider group of talents than he may have encountered by himself.
Lauren Faust (New Entry) Shea Fontana left a powerful mark on the DC Super-Hero Girls graphic novels. But Lauren Faust came in this year and reinvented the DCSHG characters – all new toys and cartoons were developed based on Lauren's direction. The books continue to be monster sellers as they spins off across media. Her choices for the characters that get picked and chosen can revive the characters in the public mind and sow the seeds for success decades to come.
Chris Powell (Down) Promoted from Diamond to Family Geppi, he has oversight over parts of Geppi's entire suite of companies. He has spearheaded a number of initiatives in the comics distribution industry, encouraging and incentivising retailers to launch new stores or expand, by persuading publishers to offer them very attractive terms. When you see a store opening another location, this was down to him making it at attractive an option as possible. He also pushes increased technology into stores allowing them to monitor stock and increase it where needed.
Kami Garcia (New Entry) Co-author of Beautiful Creatures and writer of the Teen Titans: Raven graphic novel that tore up the Bookseller charts for DC this year, and found a brand new, previously untapped audience for DC. A sequel to follow imminently, Garcia is the flagbearer for DC's YA titles through 2020.
Phil Boyle (New Entry) Boyle was already one of the biggest retailers in the US with a chain of eight Coliseum of Comics stores in Florida, but he's historically been a "speak softly, carry a big stick" type. This year he emerged as one of the elder statesmen of the retail community and kicked off the year as one of the featured speakers at ComicsPRO. He's also been an agent of change: his weekly FOC notes on secret retailer message groups have spurred conversations among retailers regarding publisher practices, ordering strategies, etc. and his "Comics Omnivore" program has become a new widely adopted tool for retailers and publishers to attract new readers.
Marjorie Liu (Down) Novelist-turned-comics writer, the first woman to win Best Writer at the Eisners this year, the powerhouse behind chart-topping Monstress, she also let a path of superheroes at Marvel and is most associated with X-23. A headline grabber, she also teaches a course at MIT on comic book writing and participates at the VONA/VOICES Workshop at UC Berkeley. She is shaping the comics that are told now and influencing the voices to come.
Nick Coglianese (New Entry) founder of the Key Collector app, Nick is the pied piper of speculators. Image, BOOM!, Vault, Aftershock, IDW, and Sourcepoint Press launches have all benefited when Nick and his team crown a book as "hot". The app's realtime alerts create ripples and shockwaves through eBay.
Gail Simone (Down) Leading comic book writer, advisor, social media presence and whose Women In Refrigerators continues to impact all over the place, Simone has also become showrunner of the Lion Forge line of superhero comic books and launched Seven Days (twice) to critical acclaim. With a massive social media following and an uncompromising attitude, Simone always brings a lot to the party.
Benny Potter and Rob Jefferson (Up) – YouTubers going under the names Comicstorian and Comicsexplained. They have more YouTube subscribers than any other focused comic book video commentators (Benny pips it) and keeps the comic book commentary going even when other media tempt. Strong appreciation for comic books from these two can make a noticeable difference in the comic book stores. And somehow avoiding accusations of pirating the comics they review, when showing every page on the screen…
Ann Sarnoff (New Entry) CEO and chair of Warner Bros. The big new boss, who succeeded Kevin Tsujihara after he got #MeTooed, she brings serious streaming experience to the role. But her father-in-law Bill Sarnoff was Chairman of Warner Publishing which oversaw DC Comics and MAD Magazine and he is also credited with getting Superman the Movie greenlit in 1978. She is expected to be rather fond of DC as part of her family's legacy but also expected to be very involved with the DC Universe streaming app, how it will share rights with other broadcasters, and make the digital comics more widely available. Also, that's a perfect position from which to release The Snyder Cut – if she so wishes.
Ta-Nehisi Coates (Down) Writer of Black Panther, as well as a literary activist, he has brought attention to this comic alongside the release of the movie, and has created a small but new fanbase for Marvel comic books. His work on Captain America, while less successful, has managed to tell stories with the character otherwise unseen. He has also become an internal go-to for advice across the Marvel Universe.
Jesse Criscione (New Entry) owner of Jesse James Comics in Arizona, Jesse made waves when he announced he was closing his Diamond account and moving away from new comic sales, with others like Orbital and Wonderworld following suit. He has since created the Comic Book Shopping Network, an aftermarket sales platform on Facebook with over 49,000 followers, now hosting stores putting on daily shows where they sell comics directly to fans through video broadcasts and Paypal. This is a worldwide, direct to consumer sales channel that is massive and growing by the day.
Dave Marshall (Down) Editor-in-chief of Dark Horse Comics, now with an added Chinese investment boost, his choices, recommendations and picks have just been given a few espresso shots. As Fox licenses jump one by one to Boom Studios, Marshall has been replacing them with names like Stranger Things, Minecraft, Critical Role and any games licenses not nailed down by Titan…
Jody Houser (New Entry) Who isn't hiring Jody Houser this year? Dropping book after book, darting in and out of major franchises like Star Wars and Doctor Who, she's almost doubled the page count she produced in 2018, with 55 mainstream comics published to her name this year alone. Add to that a friendly, fun personality and peerless networking skills and she's poised to keep making an impact in 2020.
Courtney Simmons (Down) SVP, DC Publicity & Communications. Exceptional Publicity and PR operative, as well as quiet but respected leader within DC and WB. Look for her focus on the DC Universe streaming app to blow up this year.
Mike Marts (Up) Editor-In-Chief of AfterShock Comics. Despite new creator-friendly competition, as more comic publishers keep launching like it's the nineties, AfterShock still manages to find biggish name creators – and the potential of biggish media deals to match. Marts continues to use his experience of editing the big Marvel books to land the sizeable fishes – and then keep them there.
Nick Lowe (Down) Executive Editor of Marvel's Spider-Man titles, it's been the Venom titles that have most impressed this year, as the Spider-Man titles have struggled to find their feet somewhat.
James Lucas Jones (New Entry) The Oni Press merger with Lion Forge, put JLJ as the creative head of both companies and centralized control of both catalogues in Portland. Not without controversy, the additional resources and larger catalogue positions him to make Oni a more meaningful player in the comics industry.
Charles Kochman (New Entry) Editorial Director at Abrams Books and head of Abrams ComicArt imprint. Charlie found and nurtured Jeff Kinney and has given us My Friend Dahmer, The Best We Could, Kindred, A Fire Story, Mom's Cancer and other numerous bestsellers and critical darlings in the graphic novel scene.
Charlie "Spike" Trotman (Up) Cartoonist and publisher as Iron Circus Comics, the largest comics publisher in Chicago, she sponsors the "Creators For Creators" grant and has monetised the crowdfunding-as-pre-order continually and longer than anyone else, raising millions directly from readers. She's also been able to publish erotic comic books and make a small fortune from them at a time when a new puritanism is challenging such moves again.
Jon Goldwater (Down) Co-CEO of Archie Comics, Goldwater has seen a revival of the brand grow, from relaunching Archie in a Young Adult direction, chasing newspaper headlines, creating horrific and political spinoffs and seeing the Riverdale TV show find a whole new audience for the Archie comic books. He has overseen the reinvention of what an Archie Comic book could be across today's society and is now reviving Katy Keene from utter obscurity into a household name.
Caitlin DiMotta (Down) A partner at Katz Golden Rosenman LLP, specialising as an attorney in entertainment law, and more specifically with comic book creators, including Ed Brubaker, Rick Remender, Kelly Sue DeConnick, and Chip Zdarsky. A well-regarded negotiator with publishers, with merchandising, and with media rights, she's been responsible for some very attractive deals and an extra zero on the end of some paycheques. A lawyer who's liked? That's a very powerful attribute to have indeed.
Greg Capullo (Down) artist on Batman, Metal, Reborn and Batman: Last Knight On Earth with Scott Snyder, he's one of the comic artists who can really move that needle, with a strong fan presence. His presence on Metal 2, Dark Metal or Metal Crisis – whatever it will be called, made it an event comic rather than a Justice League arc and will significantly add to DC's coffers this year. And he can always pop off to draw Reborn 2 when he feels like it.
Matt Gagnon (Up) Editor-In-Chief of Boom! Studios, he's a major curator of a major line of titles in comics — as well as writer of The Day Men. Matt has expanded the publisher into all ages and young adult comic books that have led publishers like DC into similar territories. 2019 saw the addition of Kieron Gillen, Brian Azzarello, R.L. Stine, Jeremy Haun, and Gabby Rivera to the likes of Grant Morrison, James Tynion IV, Matt Kindt, and Greg Pak leading to new sales heights and critical acclaim.
Gina Gagliano (Up) Director of Random House Graphic, a dedicated graphic novel imprint, releasing its first graphic novels in 2019, and reporting to Judith Haut, Random House Senior VP. Previously a longtime member of staff at First Second Books, and a programmer of comic book festivals, Gina Gagliano has been writing and arranging major publishing deals for a number of major creators – which may be why you haven't heard what your favourite creator has been working on for a while now. She is specialising in titles for children and young adults, focusing on both commercial and literary graphic works
Joe Hill (New Entry) Co-creator of Locke & Key, finally getting to Netflix in early 2020 with a new comics series Dying Is Easy, it's his Hill House imprint for a publisher now dead set against imprints, that has proved most effective in getting him into this chart. He gets to pick and choose – and then go elsewhere if DC doesn't play ball.
Arune Singh (New Entry) Boom Studios PR guy, with CBR, Marvel and Syfy on his resume, he redefined the company's marketing efforts over the last three years, big presences at book shows and a great rep with librarians, increased press outreach and generating stunts like the surprise Angel comic launch. Expanding into the book market with creator tours for all big launches has helped make the company one of the top creator-owned comics choices.
Matt Smith (Up) Editor-In-Chief of 2000AD, the sci-fi weekly comic published in Britain, the man who finds the talent that the rest of the industry pinch, especially with Brexit dulling down the pound and simultaneously making British comics creators suddenly far more affordable – and more expensive for 2000AD. The launch of The Best Of 2000AD may bring his role greater into the spotlight in 2020.
Tamra Bonvillain (New Entry) – Comics colourist extraordinaire and one of the most sought after in her field. A stack of awards, she works on the biggest books in the industry from, she is also a sounding board and a font of advice for much of comics.
Jeanine Schaefer. (Up) As an editor at DC and Marvel she was a conduit for new talent into the publishers and left a legacy of work with creators that followed her into freelance editing on Jonesy and Motor Crush. As Executive Editor of Boom Studios, where she is launching a new imprint with some old friends and new names. She has been around the block, she knows where the bodies are buried. And she plays hockey on top of them.
Kat Salazar (Down) Director of PR and Marketing at Image Comics, the success of many titles this year has come from getting new properties in front of as many eyes as possible, and this is visible by the number of best-of notes that Image has been getting at the end of the year. She also sets the tone for whenever Image Comics has to apologise for whatever one of the creators on its books has gone and said now…
Andrea Colvin (New Entry) Used to be the lead editor at Lion Forge, dropped them like a rock when the Oni merger happened. Now at Little Brown with a massive contacts list and goodwill to exploit in bringing comic book creators to bookstores..
Camilla Zhang (Down) Kickstarter's Comics Outreach Lead. Still the premium crowdsourcing portal for comic book projects, all manner of comic book projects go through her, and she can help – if hinder – creative projects from finding their funding. She is the gatekeeper of the future.
Eddie Ibrahim. (Up) Director of Programming at San Diego Comic-Con – it may come but once a year but Eddie holds the fortunes and plans of many comic book publishers and creators in his hands. His whim can see a publisher given the chance to expose the world to what they are working on. Or denied the chance and remain in relative obscurity. Also, it may be down to him to see if the panel you have arranged will be full of your fans or people waiting to see Critical Role.
Gahl Buslov. (Up) The public face of Midtown Comics, the comic book chain in New York City that also runs Marvel and DC's subscription departments. Comic book publishers still make media announcements here, the big signings happen here, it shows the way with the grey market, such as sending folk out to buy all the Walmart DC comics it can find, and for much of the media, Midtown is the model for comic book stores – its Times Square location is probably the most seen comic store in America. And Gahl is the face smiling out of it.
Kristina Rogers (New Entry) Event Director at ReedPop, the shape of New York Comic Con is hers entirely now, as is C2E2, and Florida Supercon. A true dynamo in the comic book convention field, and the best person to schmooze to get that big newsworthy slot on the Saturday of the show.
WarCampaign (New Entry) Comicsgate still remains a cause celebre online, a still impressive exercise in virtue signalling to fund comic books outside of the comics industry, but this virtue was put to the test as cracks grew, prominent figures turned against each other, as purity tests from the Warcampaign account, hashtag and ironic hashtag #blamewarcampaign as to whether members were or anti-progressive enough. And saw abuse previously directed at mainstream creators, many of whom have restricted their social media as a result, turned inwards.
Amanda Conner and Jimmy Palmiotti (New Entries) Amanda's influence is clear on the Harley Quinn animated series, the Birds of Prey film, and regular covers for DC, Marvel and Dynamite, while working with husband Jimmy Palmiotti on Harley/Birds Of Prey and Wonder Woman at Walmart – but non-exclusivity, their work on Paper Films and Kickstarter shows them to be a powerful – and independent – creative force.
Britney Holder and Diego Lopez (New Entries) Two junior DC editorial figures, both recently promoted, both young, respected, smart and being considered the next generation of leaders at DC. Wise creators are already making sure they are on these editors' radar.
Jenn Haines (New Entry) Owner of The Dragon, a three-store chain of comic stores, Vice President of the ComicsPRO retailer advocacy group, her social power is massive, she knows so many connected people personally and is key in weaving a web of contacts to get things done.
Axel Alonso (Up) He used to rule the roost. Well, top ten at least. But his sudden departure from Marvel Comics at EIC saw him drop off the chart. This year, however, he is EIC of Writers, Artists & Artisans, with Bill Jemas and Rupert Murdoch's millions behind him, he has been able to use his Marvel and DC Vertigo contact list to line up a truly impressive creator list for the 2020 launch.
Rebecca Taylor (New Entry) former Justice League editor at DC Comics with an amazing contact list, she has set up Myriad, the new YA imprint at Vault Comics, a publisher already on a high, and about to make a bigger splash when Mags Visaggio's Vagrant Queen splashes on Syfy. Can she take lessons learned at DC and apply them somewhere less restrictive?
Hannah Means-Shannon (New Entry) Former EIC of Bleeding Cool, Hannah performed a very rare trick, only half-way managed recently by Tom King. She fired two of her bosses. Quitting Heavy Metal Magazine, alleging claims of bullying against creators by those in charge, she found herself invited back and promoted to Senior Editor, with said bosses shunted off Heavy Metal as a result of her complaints. She is currently recruiting creatives widely – with a reputation for lying down in front of oncoming trains to protect them.
Sebastian Goirner (Up) Editor-in-chief of TKO Studios, a new comic book publisher with an innovative approach to formats and pricing, and who with owner Tze Chu are undercutting the majors, and lining up creators they would envy too, including an award-heavy selection of Garth Ennis, Steve Epting, Jeff Lemire, Joshua Dysart, Alberto Ponticelli, Roxane Gay, Ming Doyle and Gabriel Hernández Walta.
Warren Simons (New Entry) former EIC of Valiant, now filling that role at Dinesh Shamdasani and Hunter Gorinson's Bad Idea Comics, spinning out of Hivemind. Warren is the man who will hold the keys and from all appearances, it's going to be a hot ticket.
Stu Colson (New Entry) owner/manager of comic data beast ComicHub that tripled in size this year, did deals with the New York Times Bestseller List, NPD/Bookscan, and ICV2 and multiple publishers. He has the only access to sell-through data for publishers and marketing directly to comic book fans.
White Noise Studios (New Entry) this London-based collective of writers, Dan Watters, Ram V, Alex Paknadel and Ryan O'Sullivan have creator-owned books at Vault and Image and are burning their way across the mainstream books as well, Dan Watters on Lucifer, Ram V on Justice League Dark and Catwoman, and each making room for the others. There is power in a union.
Sebastian A Jones (New Entry) From working a gauntlet of shows, selling hardcovers hand to hand, to this year signing a deal with HBO to be their next big fantasy franchise, Jones has found success doing things his way. A fan favourite at shows for years, he's adept ay drawing back repeat customers and building a fantasy world and fan base out of nothing – or a passing acquaintance with someone in The Hunger Games. His Stranger Comics books now have a Pathfinder game module where you can go to the world of Asunda and his characters will be alongside Sister Night and Barry in your app soon enough.
David Pepose (New Entry) Aside from writing the gripping Spencer and Hobbes and the high concept Going To The Chapel for Action Lab, Pepose stands as a gatekeeper, running reviews for Newsarama. He's made a lot of the right friends and none of the wrong enemies, which is an advantageous position for a writer to have.