Harley Quinn, Constantine, Ms. Marvel, TUA & More: BCTV Daily Dispatch
He floated back down 'cause he wanted to share/His key to the locks on the chains he saw everywhere/But first he was stripped, and then he was stabbed/By faceless men, well, fuckers/He still stands/And he still gives his love, he just gives it away/The love he receives is the love that is saved/And sometimes is seen a strange spot in the sky/A human being that was given to fly… with The BCTV Daily Dispatch! With respect to Pearl Jam and "Given to Fly" as our opening "long-distance dedication," welcome back to Bleeding Cool TV's "big tent" look at what we've been doing for the past 24 hours that you might've missed or might want to check out again. We're talking about everything from news and reviews to interviews and opinion pieces- all for your television-obsessed enjoyment. Our line-up of news, reviews, opinions, commentary, and everything in-between for this morning covered a wide range of topics, including HBO Max's Harley Quinn bringing Season 3 this summer, Jenna Coleman's Johanna Constantine being an "upgrade" on Netflix's The Sandman, Disney+'s Ms. Marvel is proving marvelous, Netflix's The Umbrella Academy could be useful to the Sparrow Academy, Trixie Motel scores for Disney+, Amazon's The Boys begins #TheHuntForSoldierBoy, Hulu's The Orville: New Horizons goes horror this week, SYFY & USA Network's Chucky shows his pride (& Jennifer Tilly shows off Tiffany's baking skills), and tons more!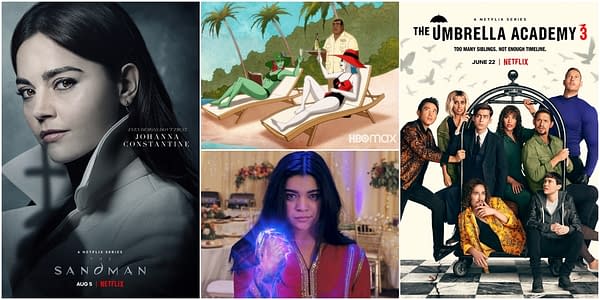 Now here's a look at BCTV Daily Dispatch's articles for Wednesday, June 8, 2022:
Demimonde: HBO Not Going with J.J. Abrams Series Could Be Interesting
Chucky Approves of "Love Proudly" Pride Art; So Why's Tiffany Baking?
Stranger Things: Netflix Confirms Season 5 Will Not Be Weekly Drop
NXT 2.0 Preview 6/7: The NXT Women's Breakout Tournament Finals
Welcome to Derry: Stephen King Finds "It" Prequel Idea "Interesting"
Stranger Things 4: Ross Duffer "Sure" There Will Be Season 5 Time Jump
Law & Order: Sam Waterston's DA Jack McCoy Returning for Season 22
John Cena Will Return to WWE Raw on June 27th
Motherland: Fort Salem Season 3 Trailer: One Final Call, One Great War
Rhea Ripley Crowned #1 Contender for Bianca Belair's Raw Championship
The Orville: New Horizons S03E02 Promo Has Pretty Dark, Ominous Vibes
Obi-Wan/Darth Vader Face-Off Focus of Star Wars Celebration Key Art
Finn Balor Joins Judgment Day, Immediately Usurps Edge as Leader
Harley Quinn & Poison Ivy Cutting Their Vacation Short for Season 3
Maryse Evasive on Size of The Miz's Balls During WWE Raw Last Night
MythiCon 2022: YouTube's Rhett & Link Announce October Event
The Boys S03E04: Hunt for Soldier Boy Begins; Homelander Takes Charge
The Walking Dead: JDM Wonders If Debnam-Carey Would Consider NYC Move
Belligerent Cody Rhodes Tries to Enter Money in the Bank Ladder Match
The Time Traveler's Wife S01E04: Moffat Remakes His Sitcom Coupling
The Umbrella Academy Good for Sparrow Academy Business? (Preview)
The Kids in the Hall "Will Be Doing Something Soon": Dave Foley
Evil Season 2: CBS Releases Deleted Scenes for DVD Release (Exclusive)
Mob Psycho 100 Season 3 Heading to Crunchyroll This October
Beavis and Butt-Head Remasters Will Feature Original Music Videos
A League of Their Own Takes the Field This August: New Teaser Released
Ms. Marvel Episodes 1 & 2 Review: An Absolute Delight of a Show
The Sandman: Jenna Coleman's Johanna is Constantine "Upgraded"
Trixie Motel Review: Discovery+ Series Prides Itself On Renewal
The Sandman, Doctor Who, Fargo, WWDITS & More: BCTV Daily Dispatch

Bleeding Cool TV on Instagram: For all of the stuff too random and bizarre to make the site, make sure to follow us on Instagram: Bleeding Cool TV (@bleedingcooltv).
BCTV Daily Dispatch: For a look at what's going on across the television and streaming landscape, sign up for Bleeding Cool's daily email round-up of the news you need to know here.