"Throne of Eldraine Deluxe Collection" Panned – "Magic: The Gathering"
Magic: The Gathering is coming out with one of their most industrious sets, Throne of Eldraine, early in October. With it, they are coming out with all sorts of gimmicks and contests which are geared to make sales for the set, including the "Great Eldraine Bake-Off", a baking contest themed around the world of Eldraine, and the Collector's Packs, a number of packs with various special cards from the set. They are also coming out with a premium box called the Throne of Eldraine Deluxe Collection.

At first glance, the Deluxe Collection is quite extravagant. It comes with sixteen Collector's Packs, a themed card binder, a foil copy of Garruk, Cursed Huntsman, a non-foil copy of Kenrith, The Returned King, an art poster of Garruk, Cursed Huntsman, a three-by-three-card strip of a sheet of Throne of Eldraine, and a number of goodies (given through a mega-code) for their software interface, Magic: The Gathering: Arena (this, in turn, includes a special sleeve skin based on Garruk, and a copy and skin for each of six sought-after cards for the set). Wizards of the Coast may as well include a partridge in a pear tree with all of these other items. The price point for this lavish product? A whopping $449.99.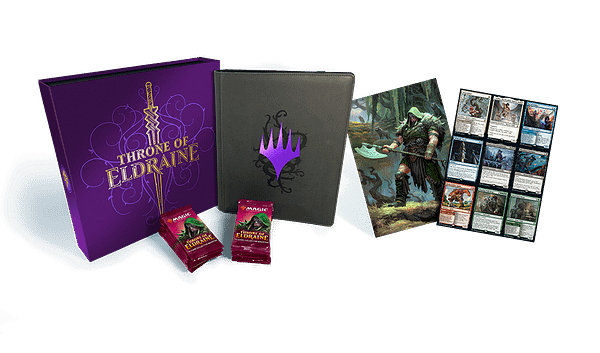 But Brian Lewis, a YouTube Magic celebrity better known as "The Professor", has denounced the luxury collection, panning it for the lack of value therein. His arguments don't seem terribly unfounded. For example, when comparing the binder included in the Deluxe Collection (which are produced by card accessory company Ultra Pro) to Ultra Pro's premium binders, there looks to be a major discrepancy and the premium binders look to be superior. Furthermore, The Professor brings the point up that not every player plays Arena and thus won't necessarily be benefitted by having the mega-code from the Deluxe Collection. The Professor goes on to liken purveyors of this kind of product to "whales" with Wizards of the Coast being the "whalers". The list of complaints that he has goes on and can be seen in greater depth in The Professor's YouTube video on the subject.
What do you think about this? Is The Professor right about his assessment on this product? Is the Deluxe Collection specifically for "whales" of the business-end of Wizards of the Coast? Let me know in the comments.