Umbrella Academy, Doctor Who, Warrior Nun & More: BCTV Daily Dispatch
In today's BCTV Daily Dispatch: Doctor Who, The Umbrella Academy, James Gunn, #SaveWarriorNun, Saraya, Booster Gold, The Last of Us & more!
---
With today's BCTV DD "Long-Distance Dedication" bringing us Jon McLaughlin with "Beautiful Disaster," welcome back to the BCTV Daily Dispatch! Here's where we look back at what we've been doing for the past 24 hours that you might've missed or might want to check out again. We're talking about everything from news and reviews to interviews and opinion pieces- all for your television-obsessed enjoyment. Our line-up for this morning includes Russell T. Davies teasing that we missed something (actually, someone) important in the Doctor Who 60th-anniversary special trailer, Netflix's The Umbrella Academy showrunner Steve Blackman signaling the start of filming on the final season, DC Studios' heads James Gunn & Peter Safran needing to answer some voice actors' questions about their DCU casting policy, Warrior Nun fans' taking the #SaveWarriorNun campaign to NYC, AEW's Saraya taking serious issue with a steamy pile of wrestling clickbait, and Booster Gold creator Dan Jurgens explains what it is about the character that makes him "more relevant now" than ever.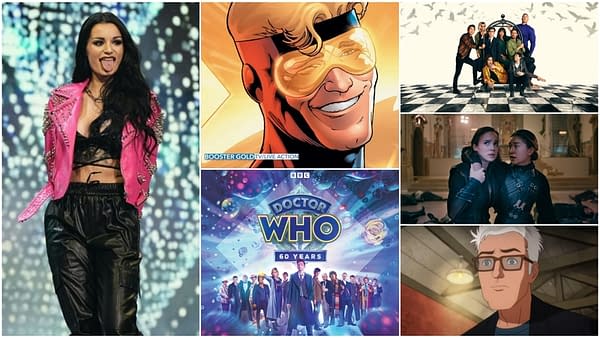 BCTV Daily Dispatch: The Umbrella Academy, Doctor Who, Warrior Nun & More!
Plus, check out our additional coverage: HBO's The Last of Us, Amazon's Criminal, WWE/AEW, NBC's Night Court, CBS' Ghosts, HBO Max's Welcome to Derry, Hulu's Hit-Monkey, Amazon's Silk: Spider Society, Netflix's Coba Kai, Peacock's Psych, Disney+'s Star Wars: Visions, The CW's The Flash, NBC's Saturday Night Live, and more!
Now, here's a look at your Bleeding Cool TV Coverage for Friday, February 3, 2023:
The Last of Us: Nick Offerman on Playing Bill, Banjo-Kazooie & More
Criminal: Amazon Studios Eyes Ed Brubaker, Sean Phillips Comic Adapt
Dan Jurgens Believes Booster Gold "More Relevant Now" Than Ever
WWE Releases Earnings Report, No-Sells McMahon Scandals on Call
Night Court Will Be Back in Session for Season 2 with NBC Green Light
Warrior Nun Campaign Hits NYC with #SaveWarriorNun Fan Billboard
AEW Dynamite: 4 Worst Moments from the Show, Groundhog Day Edition
Ghosts Showrunners: More Info on Alberta's Murder Coming; S02E13 Look
James Gunn, Peter Safran's DCU Casting Policy Hurting Voice Actors?
Welcome to Derry: HBO Max's Pennywise Prequel Series Filming In April
Doctor Who 60th Anniversary Trailer: RTD Believes We Missed Something
Hit-Monkey Season 2 Return Gives Hope to Every Other Show Out There
Buff, Shirtless Tony Khan Featured on Cover to Business Week Magazine
Saraya Shoots on Wrestling Clickbait: "You Scummy Pieces of @#$%"
Silk: Spider Society "Huge Focus"; More on Amazon/Sony Marvel Deal
Cobra Kai Creators Eye "Expanding"; Karate Kid Film Different "Plane"?
Psych Update: 4th Film Has Script; "Just a Matter of When, Not If"
Star Wars Day Brings "Visions" Volume 2: Studios & Shorts Details
The Flash Season 9 Ep. 2 Images; "Flashback" Poster; Arrowverse Tease
Saturday Night Live: Check Out Pedro Pascal, SNL Cast During Read-Thru
The Last of Us: Paul Stamets Defends Fungi From Getting A Bad Rap
Superman, The Blacklist, Doctor Who, DCU & More: BCTV Daily Dispatch

Bleeding Cool TV on Instagram: For all of the stuff too random and bizarre to make the site, make sure to follow us on Instagram: Bleeding Cool TV (@bleedingcooltv).
BCTV Daily Dispatch: For a look at what's going on across the television and streaming landscape, sign up for Bleeding Cool's daily email round-up of the news you need to know here.