Marvel Legends Reveals Come Fast and Furious at Hasbro SDCC Panel
Marvel Legends fans usually have to wait until Saturday afternoon at the con for the big panel to happen, but this year it was on Friday, and in a smaller room than usual. Nevertheless, it was packed. This is the main event of the weekend for figure junkies, and the Marvel Legends team did not disappoint. The team was their usual lively and jokey selves, and had plenty to show off.
Aww, Hasbro loves us 3001!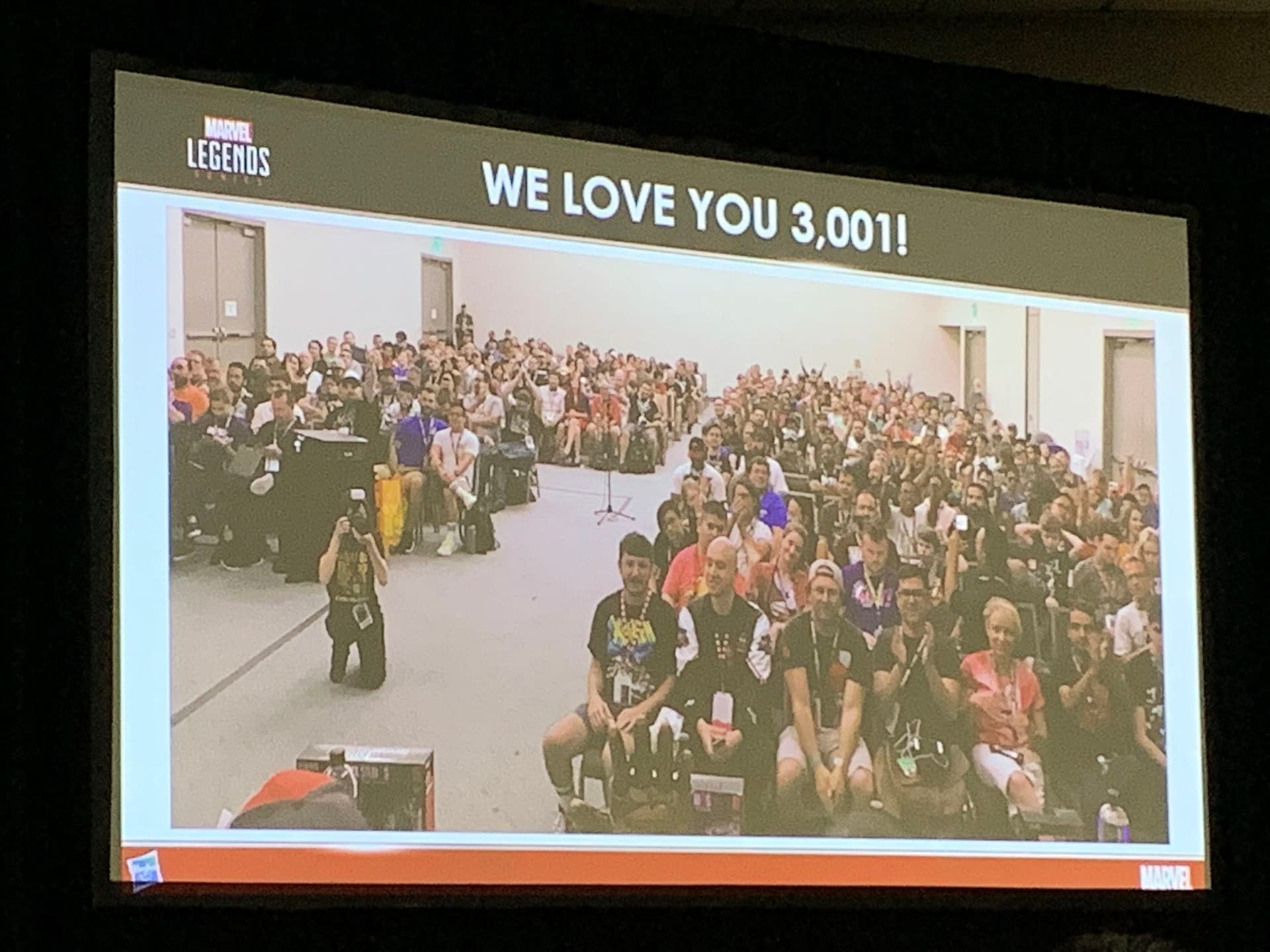 They started off discussing their SDCC exclusives. They confirmed that the two-pack Collector/Grandmaster pack is the only time they will release the Collector figure, that is why they included two heads. The other is of course the Marvel Vintage carded Hulk, the massive new figure that is well, massive.
The first Marvel Legends discussed were the already revealed new Avengers: Endgame figures- Heimdall, Iron Man Mark 85, Captain America, Valkyrie, War Machine/Iron Patriot, and a new phasing Vision. The build a figure? Dude Thor. So great. You can also stick the Power Gauntlet that comes with Iron Man on the last waves BAF Hulk. This may be my favorite MCU wave of Marvel Legends we have ever gotten.
They talked about the new Legends two-pack hitting now, including going into detail about how excited they are to have another crack at Hela from Ragnarok. Luis and Ghost from Ant-Man and The Wasp is the standout to me here. As is Peggy Carter!
Marvel 80th was next, focusing on the single packs of the Big Three classic characters- Cap, Iron Man, and Thor, as well as two-packs like Colossus/Juggernaut, Wolverine/Hulk. Big cheers to do more of these. A new Hit Monkey and Deadpool "Suits" two pack was highlighted. They literally just threw stuff in their desks in the package, which is hilarious. Never thought I would get Miami Vice Marvel Legends. Then the fan-channel Big Time Spidey, Agent Anti-Venom, Outback Logan, and a newly revealed Cammo Punisher figure were shown. Also revealed: X-Force Deathlok. And a re-release of Giant-Man, with a updated armor! It looks so much better. These can be found in GameStops and other fan channels, as well as Amazon.
So many jokes about New Mutants Cannonball not having legs. Dani Moonstar is coming to Walgreens with a Wolfsbane head and a Karma head. X-Factor continues with a Havok and Polaris two-pack, in great throwback packaging. They talked about recreating the cover for X-Men #1 and announced a new "Love Triangle" tree pack with Wolverine, Cyclops, and Jean Grey. Lots of accessories here.
Now moving on to 2020, Cosmic Ghost Rider is coming to Marvel Legends Rides, and it is huge. The most adorable Marvel Legends figure ever is the Rides Squirrel Girl. So much awesome. Two new Spider-Man game Legends- Velocity Suit and Spider-Armor Mark III coming in the next Spidey wave. Shang-Chi is also on the way, as is an update for Vulture. As is a new She-Hulk, and she looks massive, with a new sculpt!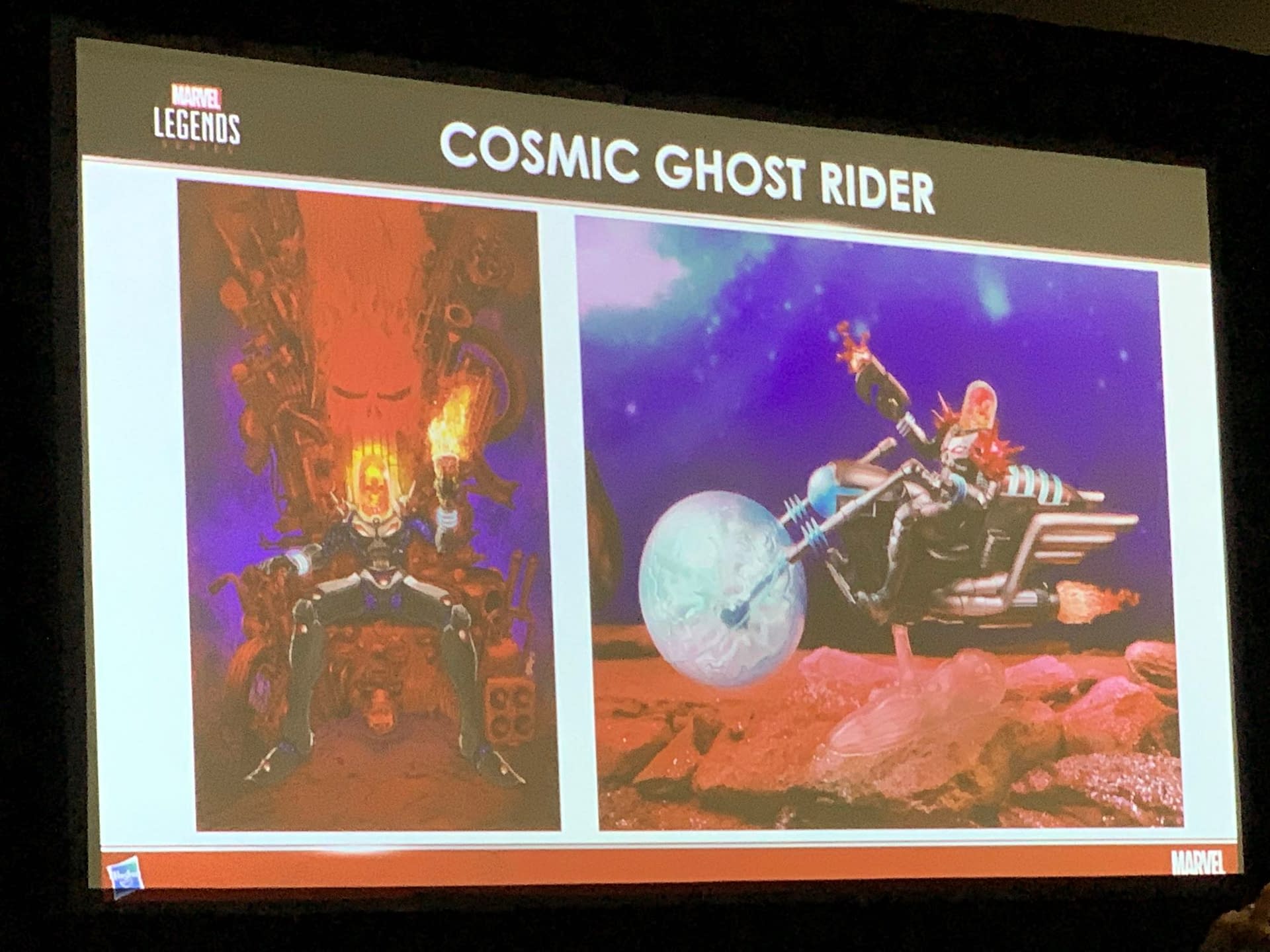 We are getting an Age of Apocalypse line of Marvel Legends! It sounds like a huge line of these are coming, including X-Man, Weapon X, Morph, and a BAF of Strong Guy finally!
The best was last however, as we are finally getting a new, classic Doctor Doom!!!!!
What a great time to be a Marvel Legends collector…