The Weekly Static s01e25: Reboots, Chief Wahoo, Fox News & More! I'm alive, and I don't need a witness to know that I survived. I'm not looking for forgiveness. I just need light. I need light in the dark as I search for…The Weekly Static!
So while I text my apologies to Jack's Mannequin and before we pull the ripcord on all of this…I'm going to need you to turn around and put your hands behind your back. You have the right to remain silent. Anything you say can and will be used against you in a court of law. You have the right to a… If you cannot afford a… …one will be appointed for you:
The Weekly Static is our righteously desperate-yet-endearing look at the past week in the land of the networks, cable, streaming, smoke signals, cloud formations, and shadow puppets from an interesting, unique and entertaining perspective. At least that's how it reads on paper, so let's see how this goes…
So here's our version of the "User's Agreement" that most of us usually blow past without realizing we've probably clicked away our first born:
● Offer a blunt, honest perspective on a handful of random TV news posts from the past week that also highlights your relentless team of news-thirsty Bleeding Cool writers and the quality work they do. My views are my views and not a reflection of the opinions of those who wrote the article. Translation? I own what I say 110%.
● Spotlight a news item we missed, but we're pretty damn sure you'll find it interesting.
● Feed my voracious ego with copious amounts of praise, adulation, social media shares, pizza, Superman Funkos, Eisner Awards, write-in votes for the 2020 U.S. Presidential Election (…stop judging me…) and Rick's portal gun!
CBS Orders Reboot 'Magnum P.I.', 'Cagney and Lacey' Pilots, 'Murphy Brown' Gets Series Order
Sean Hannity, Twitter, and Form Submission 1649
Avenged Sevenfold to Skip Grammys as Best Rock Song Award Will Be Non-Televised
Cleveland Indians Agree to Phase Out Chief Wahoo Logo by 2019
'Ninja Turtles' First Look Features First African-American April O'Neil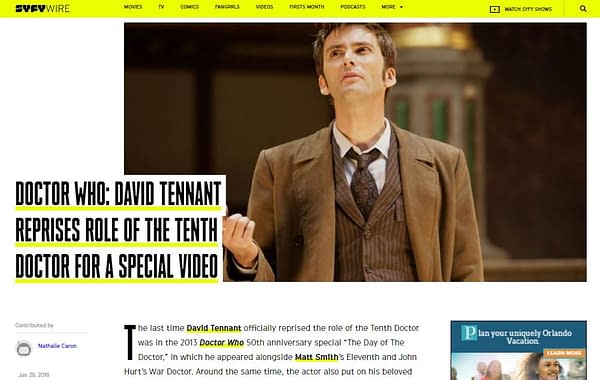 Doctor Who: David Tennant Reprises Role of The Tenth Doctor for a Special Video
"The last time David Tennant officially reprised the role of the Tenth Doctor was in the 2013 Doctor Who 50th anniversary special "The Day of The Doctor," in which he appeared alongside Matt Smith's Eleventh and John Hurt's War Doctor. Around the same time, the actor also put on his beloved character's iconic trenchcoat when he recorded a video send-off to Doctor Who script editor and friend Gary Russell, which has recently surfaced thanks to his wife, Georgia Tennant…"