Posted in: ABC, Adult Swim, AEW, Amazon Studios, AMC, Anime, Apple, Audio Dramas, Awards Shows, BBC, Cartoon Network, CBS, Comedy Central, Crunchyroll, CW, DC Universe, Disney+, Epix, Fox, Freeform, FX, HBO, Hulu, NBC, Netflix, Nickelodeon, Quibi, Review, Showtime, Shudder, Sky One, Sports, Starz, streaming, SYFY, TBS, TNT, Trailer, TV, USA Network, WWE, YouTube | Tagged: aew, bayley, Beavis and Butt-head, bleeding cool, Breonna Taylor, cable, Colin Kaepernick, cowboy bebop, dexter, doom patrol, dynamite, ed henry, fox news, Joe Pera, john lithgow, katy keene, lili reinhart, lord of the rings, mindhunter, NXT, nxt uk, ozark, Raw, riverdale, sasha banks, Scrubs, Smackdown, solar opposites, streaming, sweet tooth, television, the goonies, tv, wrestling, wwe, Wynonna Earp, youtube
---
Lili Reinhart, Colin Kaepernick, Katy Keene & More: BCTV Sunday Slices
Welcome to BCTV Sunday Slices, our little slice of weekly heaven where I look back at Bleeding Cool's television (BCTV) coverage from the past week to bestow some incredibly not objective, totally opinionated wisdom on what has become of the television landscape. The week leading into a July 4th weekend tends to be a bit on the light side news-wise as well as a bit random (as you're about to see) so we'll be all over the pop culture map even more than usual. Once again, the wisdom you're about to receive is all my own, and you are more than welcome to praise me for just how right I am or to apologize for previous oh-so-wrong viewpoints that have now been cleansed by the light of my truth. Or you can even tell us how "this isn't what Bleeding Cool is all about." *Yawn*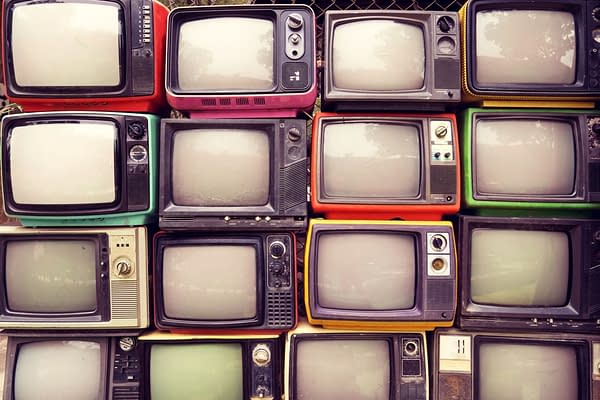 So from the WWE behaving badly to a need to check our thoughts on Colin Kaepernick, from The Brides being left at the altar to Scrubs getting scrubbed, from Ozark getting a fourth and final to Lili Reinhart getting a "woke check," from odd meta "Goonies" and sudden Wynonna Earp regret- and a gaggle of other great topics in-between- here's a look at what's coming out of the oven for this week's BCTV Sunday Slices:
Sasha Banks and Bayley Are The Best Thing Going in WWE Right Now: Which is why we all know Vince will find some way to f**k things up. Just like cinematic matches. If you think those things have been beaten to death already? In six months, it'll feel like that moment when old people started on TikTok.
WWE Roasted for COVID-19 Response in "Shocking Betrayal" Poll: See the previous answer. Unless you're a serious $$$-making merchandising machine for Vince (those ice cream bars and Fiend masks don't pay for themselves), if you're wrestling for the WWE then at some point you're probably going to experience firsthand that the company's track record in the area of health and safety is a tad bit shaky.
Dexter Star John Lithgow on Fans' Ironic "Love" for Trinity Killer: We all know that in BCTV world, The Adventures of Buckaroo Banzai Across the 8th Dimension is a close second. Lithgow's one of those actors you know you've seen a ton of stuff, and then you look at his filmography and realize he was in twice as many films and shows than you first realized.
Colin Kaepernick, Ava DuVernay to Develop Series on EX-NFL QB's Life: Kaepernick will be our next Muhammad Ali: 20-30 years from now, we'll be discussing him in terms of the societal changes he brought about and the bravery it took to take a stance and inspire a movement in the face of governmental pushback and "POTUS" threats. But also like Ali, that means still treating him like s*it in the here-and-now because we don't really like admitting when we're dead-ass wrong. We can literally see the cycle repeating itself, like a bus about to hit a wall going a mile-an-hour from 50 miles away and still not finding a way to keep it from happening.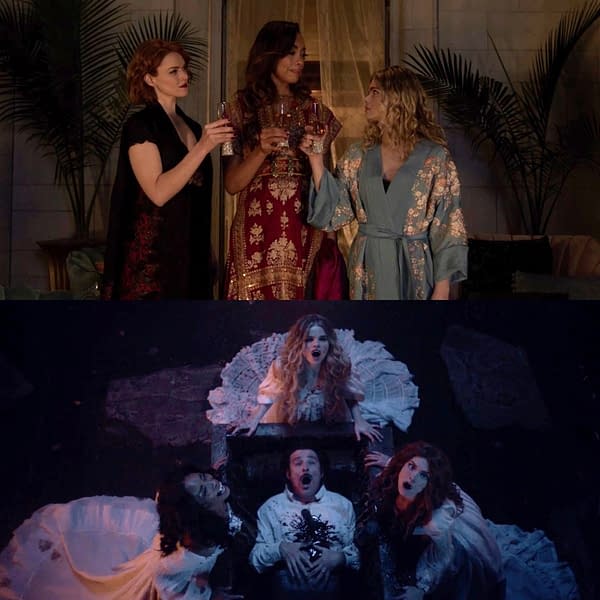 The Brides: ABC Stakes Roberto Aguirre-Sacasa, Greg Berlanti Series, Roberto Aguirre-Sacasa Vows The Brides Will Rise, Posts Pilot Images, and Katy Keene: The CW Cancels Riverdale Spinoff; WBTV Considers Options: Two big not-so-good surprises (at least for us) for Roberto Aguirre-Sacasa and Greg Berlanti. I wouldn't be surprised if both find new lives in the streaming world, which would give both series the creative freedom to tell a truer tale (translation: nudity, sex, and ultra-violence are on the menu).
Scrubs: Bill Lawrence Talks Blackface Controversy, If Eps Will Return: If you're going to edit, then it should be done with the show creators' blessings. Otherwise, slap a message before (that can't be skipped) and after the episode but keep them in the series rotation. Turn these moments into teachable ones.
Ozark Returns for Season 4: Final Season Expanded to 14 Episodes: Okay! I get it! I'll watch the f**king thing! Ozark has become one of those series with a fanbase that will mentally break you down to your core to make you feel bad about not having seen it yet. Considering it's got Jason Bateman, Laura Linney, and a Breaking Bad vibe, I'm not sure why I didn't watch it before. Streamer overdosing, probably.
YouTube Purges Duke, Spencer, Molyneux Channels for Hate Speech: Awww… I hope that didn't get their white sheets in a little bunch. Seriously, if you're looking to them for some kind of meaning and purpose in your life then it's time to take the hood off and take that long, hard look in the mirror. And then? Start getting to know a lot more people who don't look like that person you're looking at in the mirror.
Curb Your Enthusiasm: Larry's as Upset as You are Over Season 11 Order: Never watched an episode. Pretty okay with that.
Mindhunter Cinematographer Erik Messerschmidt on Season 3 Hold: As they like to say in police procedurals during kidnapping cases, the possibility of a third season of David Fincher's Netflix series is moving from "rescue mission" to a "recovery mission." Best-case scenario? The third season ends up going the El Camino: A Breaking Bad Movie route.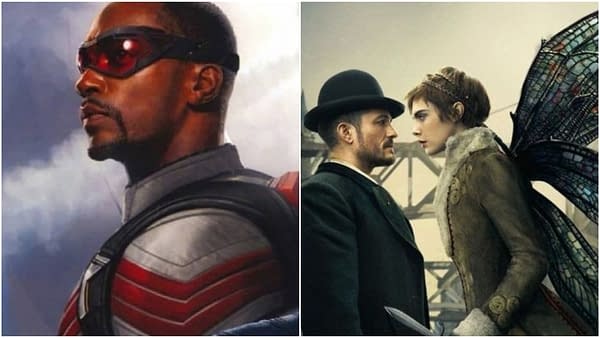 The Falcon and the Winter Soldier, Carnival Row Are Travel Ban Exempt: Wonder if there are any "application fees" that come along with the documents… what? Asking for a friend…
Riverdale Star Lili Reinhart Apologizes for Breonna Taylor Post: This week on "When White Woke Goes Really, Really Wrong"… seriously? Well-intended only excuses so much "duh," and then to put further s***ty icing on the s***ty cake? Someone commented (spoiler: white profile pic) said they thought Lili Reinhart would've gotten her point across better if she had Breonna Taylor's name photoshopped onto her skin, by her breasts. I just f**kin' can't, sometimes.
FOX News Fires Anchor Ed Henry for "Willful Sexual Misconduct": So Trump's Ministry of Propaganda continues to have a problem when it comes to things like sexual harassment and "willful sexual misconduct"? Look how bad things had to get before something was done about Roger Ailes and Bill O'Reilly, and now just imagine the s**t we don't hear about.
Beavis and Butt-Head: Mike Judge, Comedy Central Announce Duo's Return, Star Trek: Lower Decks Goes Where Everyone's Gone Before This August, Clone High: Phil Lord, Chris Miller, Bill Lawrence Series Sets Return, Solar Opposites Gives The Wall Some Michael Bay Movie Trailer Love: I hope all of you have deep, passionate love for adult animation, because if the networks and streamers learned one thing from the COVID-19 pandemic? It's that animated characters don't get sick, and most of the work can easily be done from home.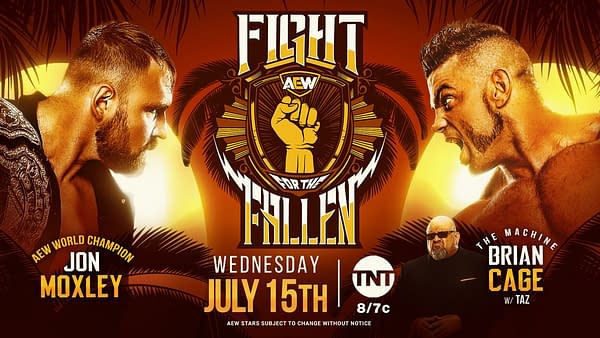 AEW Moves John Moxley vs. Brian Cage Back; Taz Takes Shot at WWE: In Taz's defense? It was a good line.
The Goonies Re-Enactment Project Pilot Is Good Enough for FOX: No middle ground on this one: this either captures the hearts and minds of a ton of eyeballs out there, our it's greeted with a collective shrug. If this was on ABC, NBC, or CBS, I'd start the death pool on it. But this is FOX, so you never quite know.
WWE Superstar Mayor Kane Votes Against Mandatory Coronavirus Masks: The 9,287th example of why it's better to be a fan of a character and not the person and to not look for "wisdom" from them in any other areas than what they're known for. I'll look to Jacobs for advice on a proper "tombstone" or on being the best fake dentist I can be. Health and safety? Nah, BCTV has The Boogey Man working on that.
Doom Patrol Season 2 Review: Every Good Party Ends with Sex… Men: The DC Universe/HBO Max series looks to be taking the award this year for the series taking the most advantage of its second season. I was a little shaky on the first season, feeling it could've used an episode or two shaved off. But with much of the "intro" stuff out of the way, this season's been a righteous freak-fest in all the best ways possible.
Wynonna Earp Releases Two "WayHaught" Season 4 Preview Images: Never watched an episode. Not okay with that. Will have to catch up. G***amn Earpers is an impressive army of fans: much respect to the blood, sweat, and tears they put into pulling off a fourth season.
Lord of the Rings, Cowboy Bebop, Sweet Tooth Get NZ Border Exemptions: Yeah, New Zealand got its collective s**t together, and they have no intention of seeing a "hot zone" flame up any time soon. This is the area of the world we're keeping our eyeballs on the most because this could be the real test as to whether or not we're really ready for productions to resume.
WWE Reportedly "Furious" About Keith Lee vs. Adam Cole Spoiler Leak: I still smell traces of Vince looking to replicate the Tony Schiavoni/Mankind moment from "The Monday Night Wars" days and make it work for him in 2020. Because if not? Yeah, that's a bad leak.
Joe Pera Talks Us Through the Tough Times with Relaxing Old Footage: Bob Ross, golf tournament play-by-play announcers, NyQuil, and now Joe Pera: four things that will lull me to sleep like a doped-up baby in ten minutes or less. Guaranteed, and I say that with much love and respect because my sleep eats it most of the time.
Booker T Wants a Tessa Blanchard, Charlotte Flair, Brooke Hogan 3-Way: One too many "Spinaroonies," Book.
---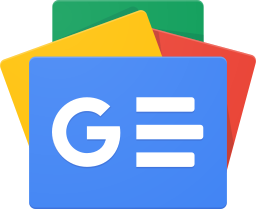 Stay up-to-date and support the site by following Bleeding Cool on Google News today!